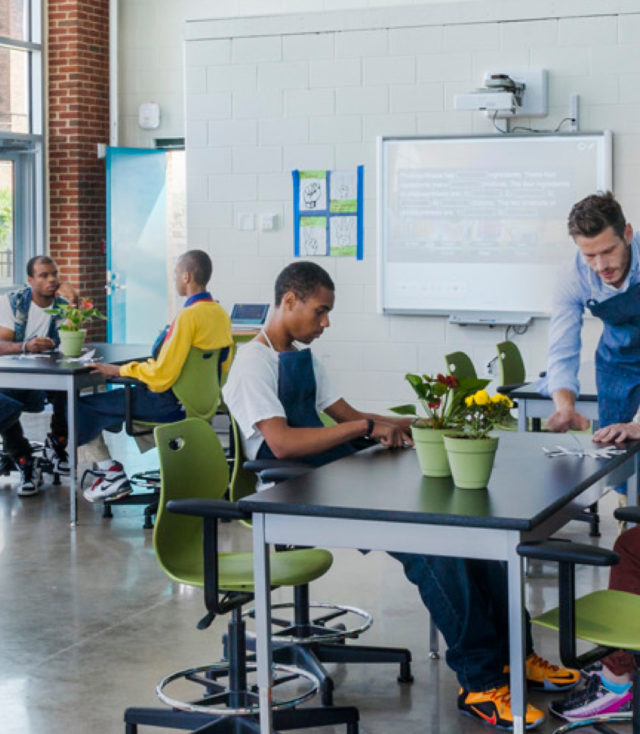 High school students are preparing for the worlds of higher education or the workforce. So we bring those worlds to them.

Fanning Howey designs high schools that bring real-world, authentic learning environments to students. Our intensely-curious designers constantly draw from the best ideas in higher education, corporate offices and research labs. Then we turn those concepts into flexible spaces for instruction in STEM, entrepreneurship and the arts.
Our thought leaders are constantly redefining the role of instructional, athletic and performing arts spaces in the high school experience. We excel at creating venues where education and community use is at the forefront. And our school security experts bring advanced design concepts to every high school we create.
Fanning Howey's experience with high school design includes media centers, DECA labs, Project Lead the Way labs, STEM labs and outdoor learning areas. Our portfolio includes 650 new and renovated high schools for high-performing students.
03
Services & Capabilities
As an integrated design firm, Fanning Howey creates facilities where innovative solutions drive performance and achievement. Our architects, interior designers and engineers collaborate in the shared pursuit of better environments for learning.
Fanning Howey's highly-collaborative design teams allow clients to accomplish the most complex projects imaginable. From $100 million campus renovations to new Zero Energy-ready campuses, we use our expertise to improve the lives of students, teachers and all life-long learners.