Profile
Fanning Howey is an integrated architecture, interiors and engineering firm specializing in learning environments.
At Fanning Howey, we have dedicated our lives to designing the next generation of learning facilities for the next generation of students.
We are intently focused on the continuous improvement of places for learning. Our broad portfolio reflects decades of study and innovation, yielding transformative learning and educational projects.
The best ideas transcend borders. So we practice locally and think globally. Fanning Howey thought leaders have worked in 37 states and are the most highly experienced K-12 design team in our home states of Indiana and Ohio.
We work tirelessly to be an innovation leader in learning environments, combining our evidence-based solutions with trends from around the world to prepare every client for their most optimal future.
This commitment to progressive thinking has led to our ideas influencing the national conversation on school design trends, appearing in publications like CNN.com, Edutopia and School Planning & Management, and by winning important peer review awards like the prestigious Crow Island School Citation.
Every day, we work to exceed the expectations of the entire educational community – students and administrators, teachers and families.
Every Fanning Howey team member is "all in" when it comes to education. We focus on doing what's best for the people who use the spaces we design. There is no "one size fits all" way to work; we know how to find the best approach for a community, and how to structure a process around it that will work best for everyone.
Our collaborative, deep-listening process helps us uncover opportunities that others have missed. We are unafraid of real-world constraints, and focus on forward-thinking design solutions with provable value. And we use innovative visioning technologies — like AR and VR — to bring our ideas to life with stakeholders who've never read a floorplan or engineering diagram.
Our above-and-beyond service mentality has created deep bonds with our clients. It's not unusual for us to have worked with many of our clients for 10, 20, even 50 years. These long-term relationships lead to deep-rooted collaborations that address the subtle evolutions within districts, and allow us to create solutions perfectly tailored to preemptively confronting the changing needs of a community.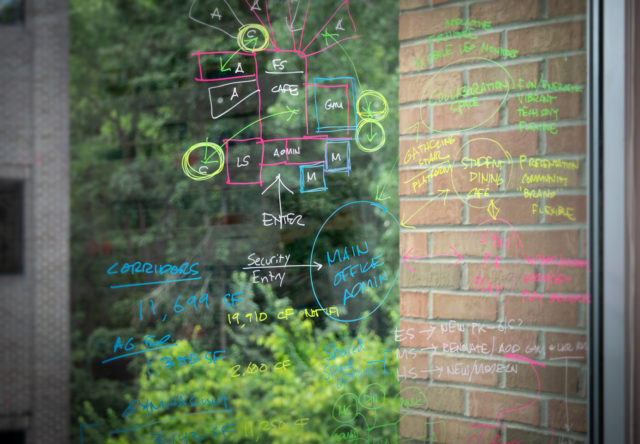 Fanning Howey provides a wide breadth of integrated disciplines and a depth of specialized knowledge to create places that drive performance and achievement – what we call "smarter places for learning".
Fanning Howey's highly-collaborative design teams allow clients to accomplish the most complex projects imaginable. Our solutions are based on a deep knowledge of the nuances of how teachers teach and how students learn. As a result, our design solutions express the specific needs of the client, the students and the community. From a $100 million campus renovation to a modest refurbishment to a new Net Zero-ready building, our design solutions are never cookie-cutter, and always express the best way to improve the lives of students, teachers and communities.
At Fanning Howey, education isn't just an area of expertise. It's a way of life. We promote a culture of constant learning, collaboration and shared exploration.
Our interdisciplinary teams continually challenge each other to find new and better ways to serve our clients. We value people who want to break new ground. We proudly stand behind our work. And we encourage team members to increase their own knowledge, skills and abilities. We are life-long learners, and it shows.