Playgrounds serve as a place for students to take a break from the regimen of the school day, but that doesn't mean the learning stops. In fact, according to Pediatrics, play contributes to a child's cognitive, physical, social and emotional wellbeing while teaching them valuable lifelong skills. Designing playgrounds to be diverse, challenging environments that support personal choice gives students the elements they need to develop these important skills, and have some fun in the process.
Safety first
When children feel safe they are more engaged and outgoing. When planned carefully, low landscape plantings, mounding or the school building itself provides students the sense of enclosure and place that they need. For some playground locations, especially on urban sites, a fence may be needed around the space. If possible, capturing a multi-use play field directly bordering the playground offers students a large expanse to roam free while still being safely in view of the teacher on duty.
Balanced textures
Whether it's asphalt, concrete, wood fiber mulch, grass or poured in place rubber (the bouncy bright-colored surface that's so fun to walk on), multiple ground surface textures are a must. Much like interior spaces, the texture of the ground plane is a signifier to students of what the space's primary use is. For a playground, softer textures such as play mulch or poured in place rubber should be used around play structures where the risk of falling is greatest.
The ideal playground design offers a harmonious balance between soft surface play areas and asphalt play areas for basketball and painted games.
Equipment for choice
There are many options for playground structures, but they fall into two types—those with an obvious purpose, and those without. Straightforward play elements, such as a structure you climb to reach a slide, provide students with a task to accomplish (reach the slide and go down). These structures are great for young children and students with limited mobility, as they can easily climb a few platforms to complete the task and get a different vantage point of the play area.
The alternative is an ambiguous play structure—something a student sees but isn't quite sure what to do with it, so they explore the possibilities. Creativity is a big part of play, and an important skill for children to develop. Ambiguous play equipment allows students to climb around and choose their own adventure, practicing creativity and imagination that will benefit them throughout their lives.
Whether straightforward or ambiguous, playgrounds should provide a variety of equipment and activities for students to choose from. Choice is instrumental to student development—deciding what to do, who to do it with and where to do it at. Deciding to go up, down or upside down puts students in charge of their learning.
More than recess
Outdoor classrooms are springing up everywhere. If your school doesn't have one, consider designing your playground to double as an outdoor classroom for science lessons and experiments. Rain gardens and native plantings provide learning opportunities for students, and require little maintenance for staff.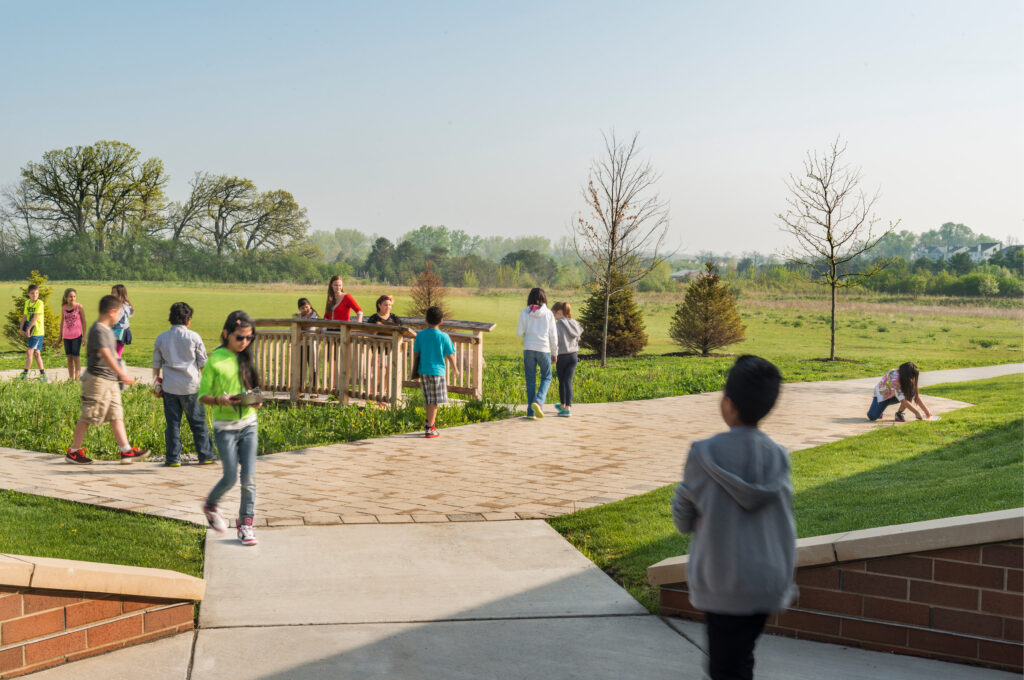 Playgrounds should be places for students to let loose and have fun, unaware of the valuable skills they're developing outside of the classroom. By designing a safe, balanced playground centered on student choice, you're creating a learning environment where the sky is the limit.
Additional Resources