Insights
Guest Blog: Elementary School Addition Brings a Wave of Change
By Tracy Neely, Principal, Rosa Parks Elementary School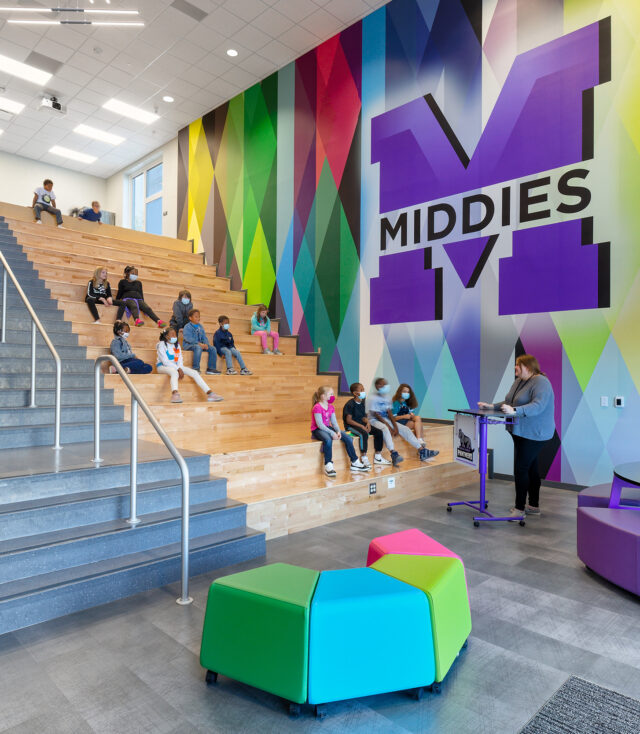 In 2014, Middletown City Schools joined forces with Fanning Howey to revamp their facilities to better reach their students and community. One of the latest projects in this effort was a 28,930 SF addition to Rosa Parks Elementary School to expand their Middie Modernization Movement.  Rosa Parks Elementary School Principal Tracy Neeley discusses the strategic expansion and how design has helped them deliver innovative educational programming.
What were the main driving factors to pursue this addition at Rosa Parks Elementary School?
Design work actually began in the Fall of 2018. Adding onto Rosa Parks Elementary gave the district a unique opportunity to deliver new, innovative academic programs and environments to all elementary students while providing educational space relief for its K-5 buildings.
"Expanding our innovative programming at the elementary level is the next step of the Middie Modernization Movement. We've asked the community to pivot forward and we're excited to do this together. Our kids deserve it," said Marlon Styles, MCSD Superintendent.
Financing for this project comes from the $10 million savings the district incurred from the State of Ohio on the Middletown High School renovation and new Middletown Middle School construction projects.
In general, how has this addition helped Rosa Parks Elementary School become a smarter place for learning?
The positive impact for the students, staff, and community is really immeasurable. There are a variety of instructional areas to help facilitate learning and encourage collaboration. We now have the ability to extend the learning outside of the four walls of a classroom, and staff is rethinking how to present content to students in nontraditional and innovative ways.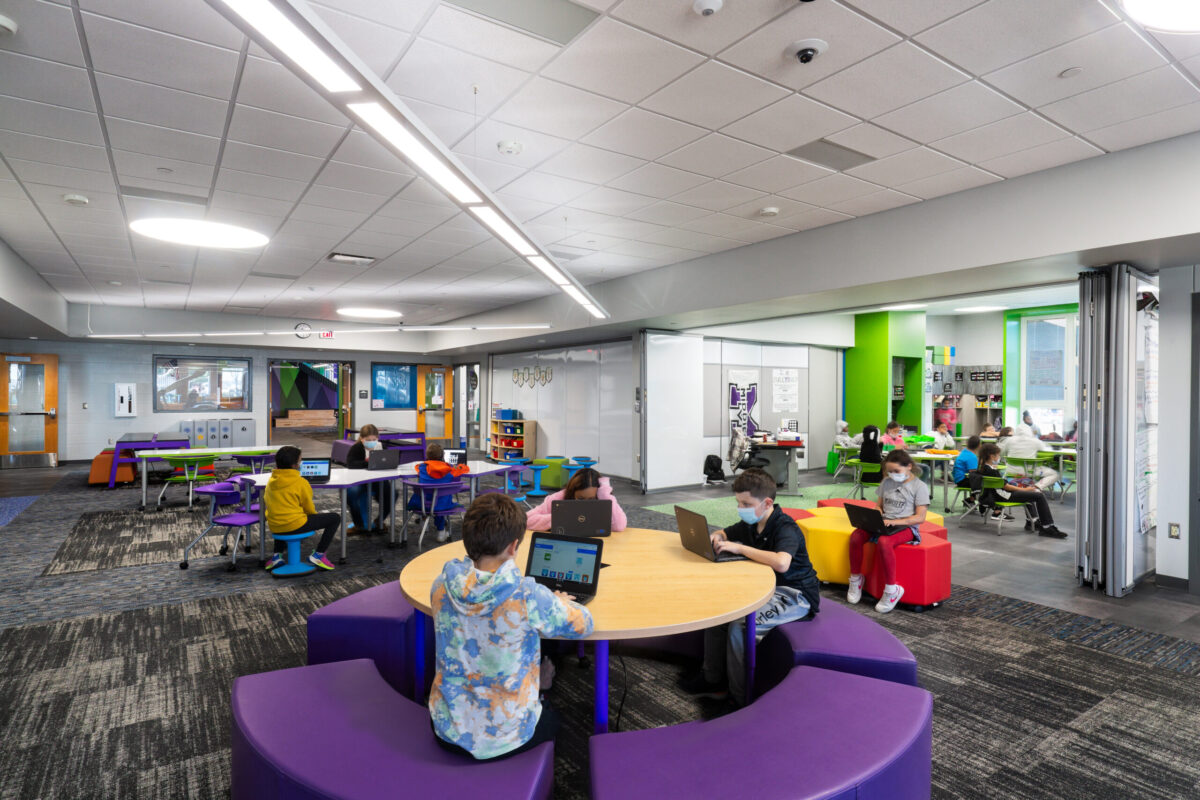 The addition features some exciting custom items, such as the Genius Bar, what spurred those conversations, and how are they serving students today?
Our features, such as the STEAM Lab, Gathering Steps, Genius Bar, Literacy Lab, Outdoor Lab, and collaboration spaces provide opportunities for our students to experience instruction and work collaboratively with other students, classes, and grade levels. Flexible spaces allow for small and large groups to come together (such as for district-wide Professional Development meetings). The spaces have added a sense of community, excitement, and pride to the building.
The use of the custom spaces provides opportunities for our students to take ownership of their environment and builds their confidence and self-esteem, which directly impacts their academic achievement.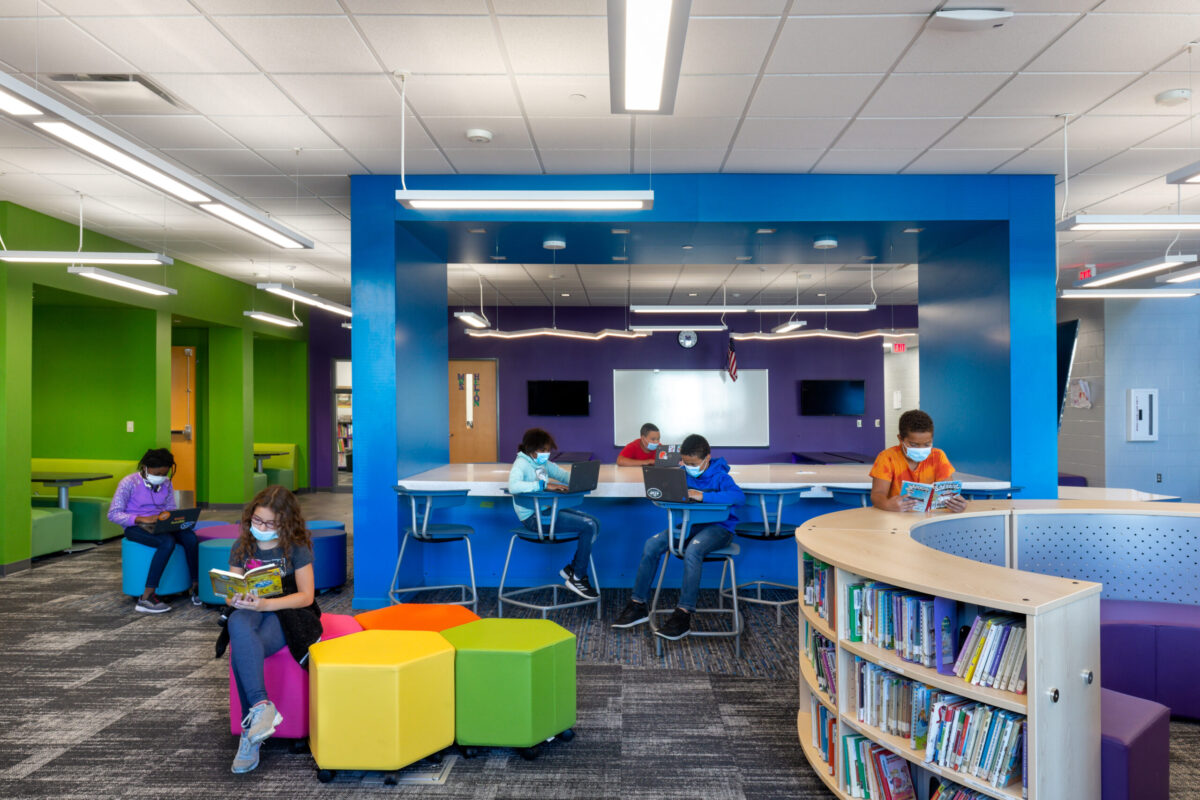 I'm told this design aligns with the Challenge Based Learning model of the Middie Modernization Movement, talk to me about that model and how this addition helps your educators deliver it.
Challenge Based Learning (or CBL) is a framework for teaching and learning using real-world authentic challenges. The CBL framework is divided into three phases: Engage, Investigate, and Act. For us, it is a common building framework for modern instruction that is engaging, rigorous, and empowering. CBL focuses on co-ownership between the students and the teachers, and it is rooted in Inquiry-Based learning and academic growth. It develops competencies and team skillsets for finding and solving problems in a fun, interactive, creative, and joyful environment. With CBL, we can reimagine the opportunities we can provide students at the elementary level, and the new spaces and features within the expansion help us do just that.
Bold color choices were clearly a strong element of the design. How important was the strategic use of color to this space?
We wanted a bright and vibrant environment that was not only innovative but had a "feel" of an elementary building that serviced a diverse population. We knew we wanted "Middie" purple (our district color) incorporated, but didn't want colors to overpower the spaces. With a neutral foundation and a few choices of primary bases, we were able to include pops of color, especially in furniture and furnishings.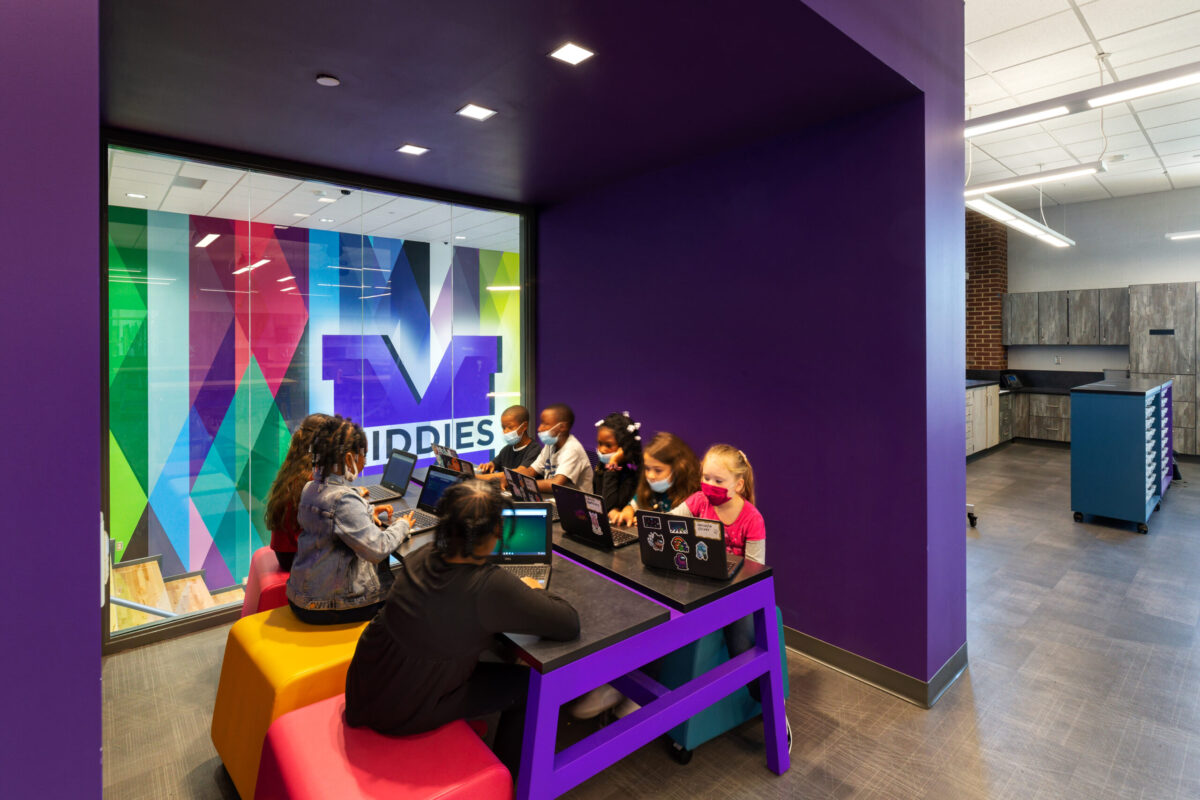 Was there anything about this project's process from visioning to student occupancy that stood out to you? Parts of the process other district leaders should be thinking about for their facilities?
Hands down, what stood out the most to me throughout the process was the guidance from Fanning Howey's architects and support team. As an elementary Principal, I had ZERO experience in school design or construction of a project of this magnitude. Vonda Alberson, John Gladden, and Brandon Biniker were instrumental in providing ideas (from the visioning of the project to the day of the Open House) and were able to see a future I could not imagine. As other district leaders begin a process of reimagining their facilities, I would encourage them to not only really consider the specific needs of their population and stakeholders, but to also lean on this team of experts to lead the way.
The project has brought a lot of excitement to the community. As we recover from the pandemic, we look forward to the building becoming a thriving cornerstone to the neighborhood. We hope other districts will look to the expansion as a model of the future of elementary facilities.