No other educational facility demands as much diverse design skill and attention to detail as a PK-12 school. Students at different age levels have unique academic and social needs, all of which must be reflected through design under one roof. Common spaces must be used efficiently, while simultaneously maintaining the necessary separation of educational programs.
Creating a comprehensive building requires an integrated team. Our Thought Leaders offer insights from across disciplines to ensure a full understanding of the ins and outs of PK-12 school design.
Creating identity and differentiated experiences between grade levels –
Brandon Biniker, Interior Designer
The model PK-12 school environment is one where older students become mentors to younger students, but all age groups need to feel a sense of community and place within their spaces. Encouraging school pride is important, but the implementation of color, furniture and finishes should also spur the imagination and inspire students to think outside the box. A learning space should be memorable and welcoming using flooring, graphics and collaborative furniture to create an educational environment where all students are comfortable participating, collaborating and learning from each other.
This is supported by diverse spaces that allow students to learn in their own styles and at their own paces. K-6 spaces should find a balance between a real world and school mentality, while 7-12 interiors should give students a sense of ownership of their path to prepare them for careers or higher education with spaces that feel more professional.
The separation of spaces is important, but a personalized, compassionate and community-oriented environment focused on collaboration allows students, regardless of age, to find their niche and succeed in a rapidly changing world. Separation is still achievable with shared spaces that bring the community, students and staff together to make everyone feel at home. A mixture of these spaces creates learning environments for exceptional potential and growth.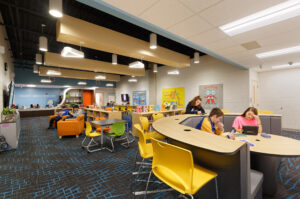 Placement of transitional grades – Doug Rich, Architect
A common concern with PK-12 schools is what to do with "in-between" grades. There is a desire to provide some autonomy for the elementary, middle and high school students, but often there are some in-between grade levels that are in flux. Recently for Hopewell-Loudon Schools, it was the 6th grade. The district knew they wanted to divide their school into an elementary and a middle/high school configuration, but they struggled to determine where the 6th graders should go.
Rather than provide separate wings or pods, our team designed a U-shaped academic area with the elementary on one side, middle/high on the other and a shared media center and 6th grade in between. Administratively the 6th grade was part of the elementary as it had been before, but if it was determined in the future to be made part of the middle/high school, they were located appropriately for the transition. The forward-thinking design brought flexibility to the school building.
Designing to honor community heritage – Dan Obrynba, Project Executive
An element that is particularly important with new PK-12 schools is honoring community heritage. One school district often represents more than one community, so when schools combine into a comprehensive PK-12 building, it is crucial that we find ways to memorialize former schools and the impact they had on their communities. There are a variety of ways to do this, including naming neighborhoods in the new school after different communities, creating historical displays within the school, mimicking architectural styles or repurposing distinct design elements from former buildings that communities recognize as their own.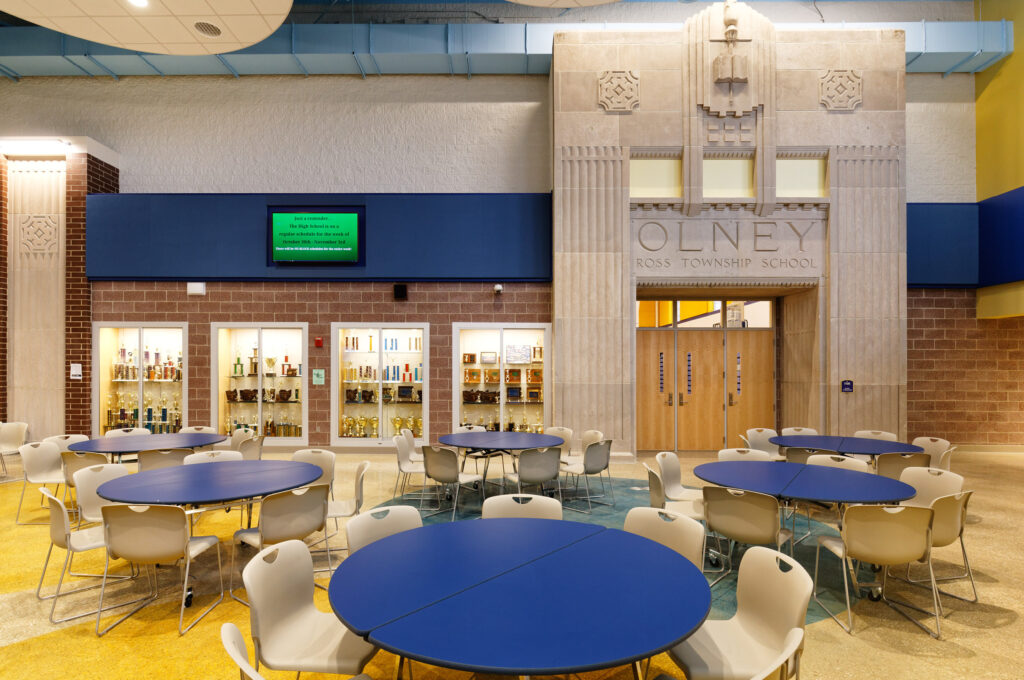 Providing security while maintaining community access and feel – Michael Myers, Project Manager/Security Expert
PK-12 schools offer a different level of complexity to security design. The placement and definition of administrative services is a special challenge—administrators need to be near the students they are responsible for while maintaining control of entrance and exit areas, parking areas, bus loops and play areas.
Community use of recreational and educational components should be zoned for easy access without traversing or opening up the entire building after hours. This way, the public can still use the school without additional security risks. For students, the design should appropriately separate younger students from older students, while still maximizing the sense of community that is inherent in a PK-12 campus.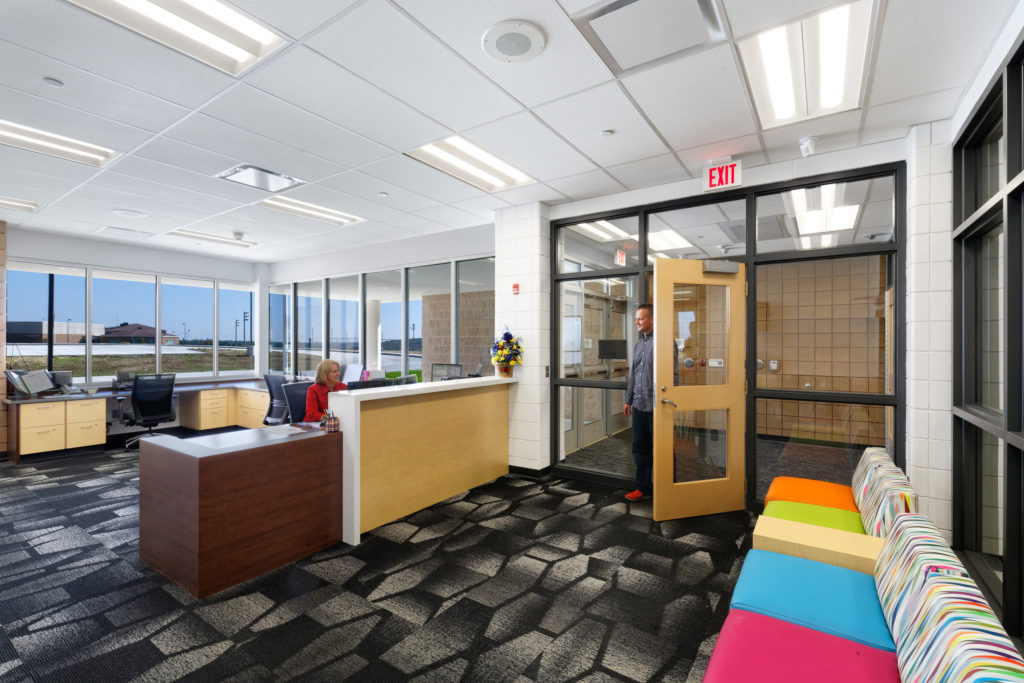 Using building systems to support learning for different grade levels – Brian Butler, Electrical Engineer
In the lower grades of PK-12 schools we want to spark creativity and curiosity through lighting design. This can be accomplished using lighting in a variety of shapes, colors and patterns. At the middle and upper grades, we look to include educational opportunities tied to the building systems, whether that is dashboard information about energy and water usage, wind and solar production, labeling the equipment in mechanical rooms, and "sneak peek" or "cloud" ceilings that show hints of piping and conduits. The goal is to get students curious about their building and its impact on the environment.