Insights
Connecting Student Activity Centers
By

Steven Herr
Much like the human brain, student activity centers are all about connections. As the hub of activity for your school, these facilities bring together a wide range of students and community members. By maximizing connections to your academics and athletics within the larger school campus, you can use your student activity center to solve some of your school's biggest problems.
Free standing buildings vs. additions
The first connection to consider is the facility's relationship to the school campus. Student activity centers can connect directly to existing buildings or they might offer the most opportunities as a free-standing building.
One benefit to free standing buildings is that they give the district more freedom with exterior design. The physical 'break' from other buildings on campus may allow a distinct solution that expresses the uniqueness of the activities it contains. There are basic downsides to a standalone building: there is duplication of lobby space, pre-function space, bathrooms, locker rooms and showers because they cannot be captured or repurposed from an existing building.
Free standing buildings also complicate security. The layout must allow for safe travel between facilities for students, and there are extra costs involved in securing a separate building.
A student activity center addition to an existing building provides opportunities to enhance everything from existing athletics to academics to overall building security. Codes for the existing building must be taken into account, as well as the addition's impact on egress, pickup and dropoff. But through creative placement, a design solution can improve the existing school and also guide future planning.
Connecting with athletics
When considering athletic connections for a student activity center it's important to look carefully at the site with the short- and long-term needs of the program in mind. Is there a place to tie the facility in to increase usage or visibility of a key portion of the building? Or, can your student activity center alleviate crowding for a program that has outgrown its existing space? At Center Grove Community Schools the district had outgrown its pool. To plan ahead, the student activity center addition was designed to simultaneously create a location on site for a future pool facility.
Exercise and athletic opportunities are important to the community as well as students. Health clinics, weight rooms and training spaces in your student activity center can benefit both. The spectator experience can be enhanced with the creation of a pre-function lobby using comfortable seating, different styles of tables and monitors to help people see events. In free standing buildings the inclusion of these auxiliary spaces can add significant cost, but connecting the student activity center to an existing school can create these spaces naturally.
Connecting with academics
From science experiments to drone flights, student activity centers can host a range of academic activities. Not only does this provide new opportunities for students, but connections to existing academic spaces can strengthen transparency and collaboration.
The new Warsaw Student Activity Center addition creates an intersection between the high school's Senior Career Academy, the student-run Blue Apron Restaurant, and the addition of physical education and health spaces. The student activity center's large commons is the space that ties everything together by accommodating daily academics, after school athletic events and a unique flexible space that can serve as an independent venue. The addition has also increased the overall security of the building by tying several existing entrances into a single point of entry.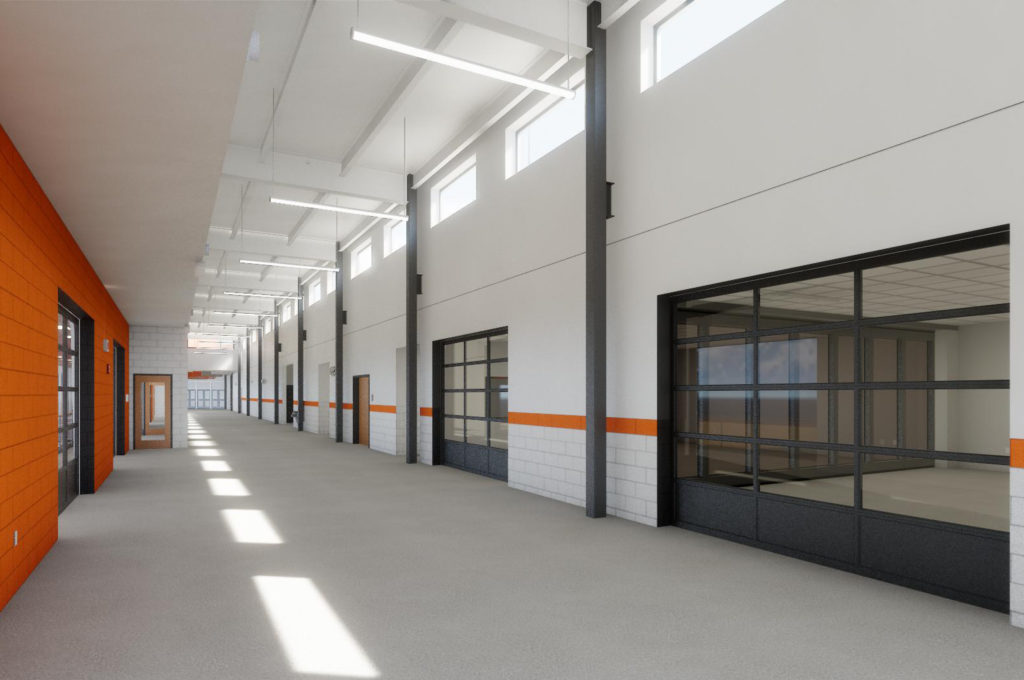 When connecting academics and athletics through a student activity center addition, the facility should be zoned to allow for afterhours use. This gives groups the flexibility to use the facility outside of school hours, but does not allow access to learning areas.
It's easy to see how a student activity center provides more opportunities for athletics and academics to your students and community, but when you widen your perspective to the entire school campus, there are chances to create even more value. Designing the facility as an addition to an existing building instead of free-standing can often improve overall campus security and connectivity. Start by surveying your school's unique problems to determine the solution that's right for you.