Insights
Smart Schools Roundtable: Educational Visioning
By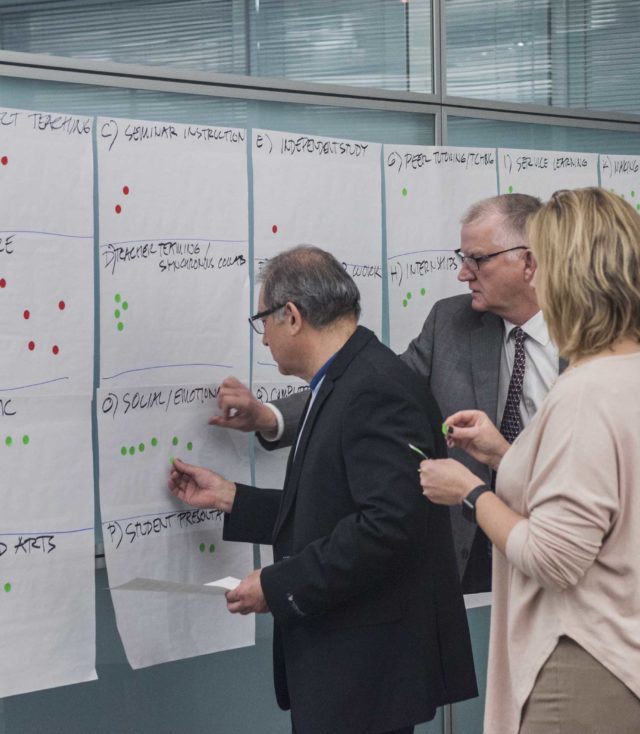 For the December session of Fanning Howey's Smart Schools Roundtable, we heard from educational visioning expert Frank Locker, Ph.D.
Educational visioning is an integral process to creating a school district's master plan. Connecting your educational goals with your facilities needs allows for districts to efficiently plan for the future. In this session, educational planning expert Frank Locker, PhD reviewed the basics of educational visioning and overall facility master planning.
Educational Visioning
Educational visioning embraces education, community connections, facility concepts and master planning. Visioning and planning tend to work concurrently with facility design. A strong district-wide education vision takes into account:
Appropriate and effective educational practices
School organizational structure
Concepts for the school facilities needed to support them
District master plans
Future planning for curricular needs
Facilities need to serve their districts for ideally 50  years, and the visioning process helps develop the plan for district wide facilities that will adjust with the times to best support students. Visioning sessions involve collaborative planning with educators and community members alike. Ideally you pull together a combination of individuals that can both develop a strong vision and execute that vision moving forward.
Tailor Sessions to Local Needs
Avoid a canned experience by planning for discussions and activities that focus on the needs of your community as a whole. Think beyond student success in school, but how educational programming can help students be successful in life. This approach will help define your facility priorities. You may need more career technical space or expanded STEAM spaces. Focusing on local needs will help you prioritize options for your district's vision. Discussion topics can include:
Assessment of current curricular programs
Most effective learning modalities
Innovations in education
Project-based learning
Potential future changes in education
How will the vision be carried out
Assessment of capacity to execute vision
Virtual & In-Person Visioning
In person visioning sessions can be completed over a couple of days, with virtual sessions, more planning and preparation is necessary. In person sessions are usually conducted in 6 hour segments with larger groups that break out into smaller groups throughout. Virtual sessions are more successful when broken up into 2-3 hour sessions to go through engagement activities. Once we can safely move back into in-person sessions, it is important to consider implementing a hybrid models. The flexibility of virtual sessions can increase potential participation because it eliminates the travel and full day time commitment for individuals. Having a hybrid option can be valuable moving forward.
Visioning Success
Successful visioning doesn't end after a few engagement session or once facility planning is complete. Transparent communication with students and community member about the educational vision and what that means for them should be continuous. As you begin to test out facility changes and new curricular programs, update stakeholders on progress and adaption. You may need to revisit goals and adjust to your needs based on student, educator and community member feedback.
---
Register now for our January session:
School Food Service Design
Current Trends in Food Service Design

Presented by Scott Reitano
January 14th at 12:00 P.M. (EST)