Insights
Guest Blog: Broadcasting Success
By Steve Edwards
Frankfort High School in Frankfort, IN, had developed a thriving multimedia program despite being hidden in a back corner of the building and limited by available technology. When the district partnered with Fanning Howey to renovate the high school, it was an opportunity to take the program to new heights.
Renovations created a new broadcasting studio in one of the most prominent places in the building using interior glazing for high visibility. Equipped with industry-standard technology, editing software and a green room, the new broadcasting studio is designed for real-world learning. We spoke with Steve Edwards, Principal of Frankfort High School, about the impact the new space has had on education:
How has the relocation of the program improved its visibility, transparency and recognition?
The broadcasting studio relocation was one of the best decisions made in the renovation project. Centralizing the radio/TV class and studio has given students and teachers easy access to the rest of the school near high-traffic areas like the auditorium, student commons and cafeteria. Large windows in the studio offer a live view into the foyer and hallways, and allow passing students to look in on the activities taking place.
Another benefit of the new location is students can access academic and high-traffic areas with cameras to do remote location interviews or pieces for their shows. It is so much fun having the radio/TV class in its new location because it is a centerpiece of Frankfort High School.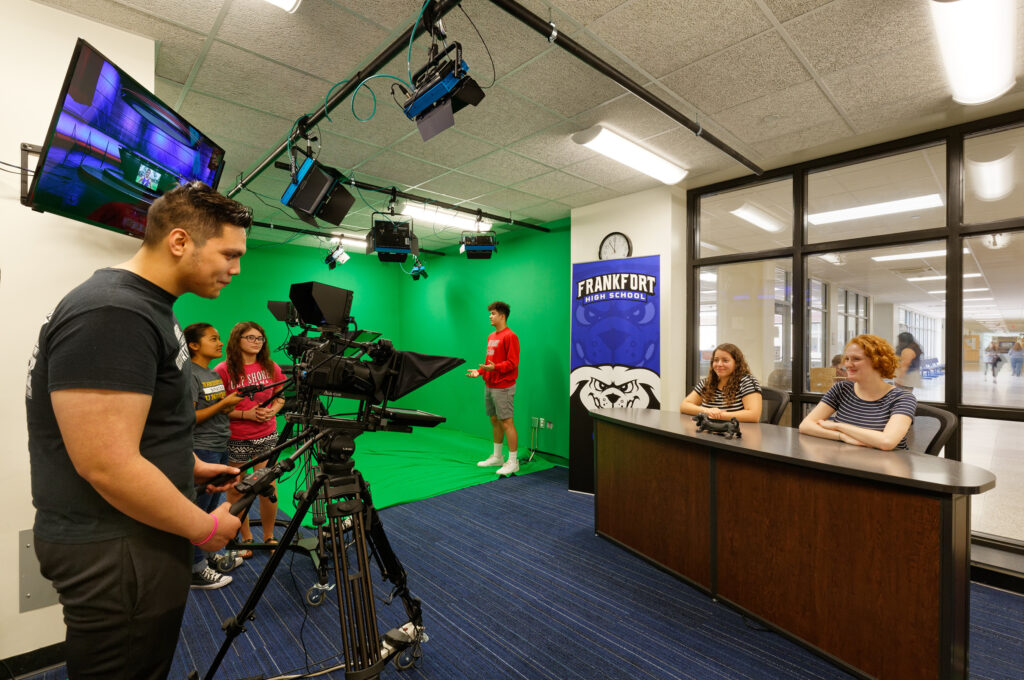 How has the renovation of the broadcast studio and its new technology impacted students and teachers?
The radio/TV class has become a better program for our students, teachers, school and community. The new studio includes a classroom, two booths and a green screen space complete with new equipment, computers and lights to prepare students for the future. All of the work they're doing in the new studio is preparing them for college and real-world multimedia careers. The program offerings have grown because of the renovation. Our teacher has been able to expand the radio/TV class work and projects, offering students opportunities that wouldn't have been possible in our former studio.
I honestly think the renovation and relocation of the Frankfort High School broadcasting studio has the excitement of the work being done in the program at an all-time high. The students in our radio/TV classes are involved in everything we do at the high school—from award nights, open houses, Hall of Fame and graduation to sporting events, musicals, concerts and social media.