Insights
The Future of Learning Environments After COVID-19
By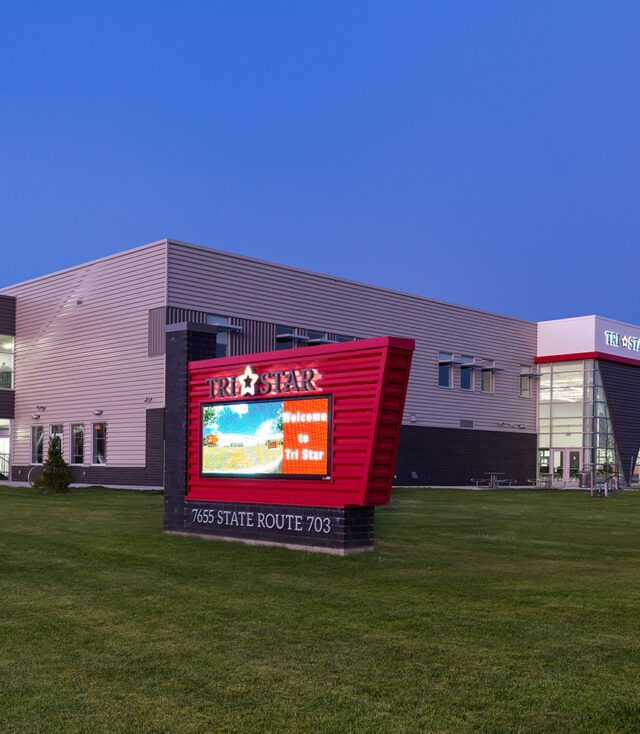 COVID-19 has altered the educational landscape, and our learning environments must evolve to meet new challenges. We will need to employ new design strategies to provide a healthy environment for students, educators and our communities.
Fanning Howey assembled a roundtable of our design leaders to discuss the future, and we have identified seven areas where our learning environments will change as the result of COVID-19.
1. Collaborative Learning Spaces Become Even More Vital
In 21st century schools, collaborative learning spaces are meant to bring students together. Now, these same spaces can help when employing social distancing practices. As schools plan to reopen in the fall, administrators are finding that the typical 900 square foot classroom will only support appropriate spacing for 16 desks. Schools that have 21st century spaces such as extended learning areas, a research commons or a collaboration atrium will be able to turn these environments into additional classroom space.
2. Flexible Furniture is the Way to Go
Flexible furniture is another trend that will reach its tipping point with COVID-19. In a post-pandemic world, fixed or hard-to-move furniture will not support the spacing that will be required. Student stations on casters provide the flexibility to quickly spread students out at safe distances. Mobile writing surfaces also provide flexible barriers between students working in small groups. For example, mobile marker boards act as lines of demarcation in a larger space. They screen students from one another. And they are easy to clean and reuse.
When school returns, elementary school students will provide the greatest challenges related to social distancing. Defining work areas will help these young students understand boundaries. Give students small, washable mats of their own to work on. The mat helps create a sense of ownership and a sense of place, and can reduce a student's desire to move about the room.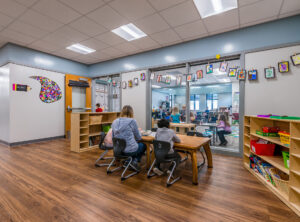 3. Restrooms Go Ultra-Hygienic
A key consideration in minimizing disease transmission is to eliminate the need to touch surfaces wherever possible. The continued elimination of entrance doors and the use of touchless fixtures will become even more common. Anti-microbial surfaces will rise in popularity. Social distancing is more difficult in a restroom, but greater spacing at handwashing stations will help. Placing handwashing stations adjacent to corridor space increases social distancing while providing for ease of monitoring. Also consider placing handwashing stations along major circulation pathways throughout the building.
4. Food Service Provides More Options
During the COVID-19 crisis, many school districts are providing healthy pre-prepared meals for students in need. We expect this trend to continue. Pre-prepared meals reduce interaction between servers and students, reducing the risk of transmission. As a result, food service areas may need to accommodate more storage and retail-style display stations. To enhance social distancing, pre-prepared meals might be taken to other spaces in the building rather than all students packing the cafeteria. Monetary exchange should become a thing of the past wherever possible. Cashless transactions are clearly a better way to go.
5. Building Systems Support Improved Air Quality
Our engineers are rethinking systems design and performance in response to the discovery that this novel coronavirus can survive in the air longer than previously thought. As a result, we anticipate the following improvements to building systems design.
Improved Filtration: Our designers will move toward systems that support a higher rate of filtration. This will almost always result in a preference for central air distribution systems that can accommodate MERV 13 or MERV 17 filters.
Increased Outdoor Air Exchange: Reducing outdoor air exchanges as a means to saving energy costs has been a questionable practice before, but it is inconsistent with providing good indoor air quality going forward. We will see a shift away from this approach, as schools try to dilute indoor air to reduce viral spread. But don't throw energy conservation out the window. As schools consider staggered schedules to reduce the number of students in a building, we expect to see both reduced heating and cooling loads as a result of fewer occupants. These benefits will not be gained by schools looking at extending building operation hours by moving to multiple "shifts" of students.
Humidity Controls: Humidification systems have rarely been employed in learning environments. Because humidity levels of 40 to 60 percent are shown to reduce viral spread, we expect humidification systems to become more popular in school design, much like they are in healthcare.
6. Antimicrobial Surfaces Are More Important Than Ever
Just like LEED certification made low-VOC materials ubiquitous, COVID-19 will spark a new generation of antimicrobial surfaces. Materials and surfaces that do not promote or sustain germs will gain a huge competitive advantage in the marketplace. They will become the new normal.
7. Operations Go 24/7
We cannot increase the size of our schools overnight to respond to social distancing. However, for the past 50+ years we have been designing schools for 24/7 operations. These design strategies give schools the ability to employ staggered schedules, reducing the number of students in the building at a given time. E-Learning has been employed by many institutions during this pandemic, and can be another strategy for reducing the number of occupants while not increasing the school day.
Most of all, we expect COVID-19 to encourage a new era of collaboration between educators and designers. The challenges that lay before us require cooperation and innovation. But that has been part of our firm's DNA for 59 years.
Together, we will discover ways to design even safer and healthier learning environments, creating a better, safer and more prosperous future for all.