Insights
Higher Education Project Round-Up
By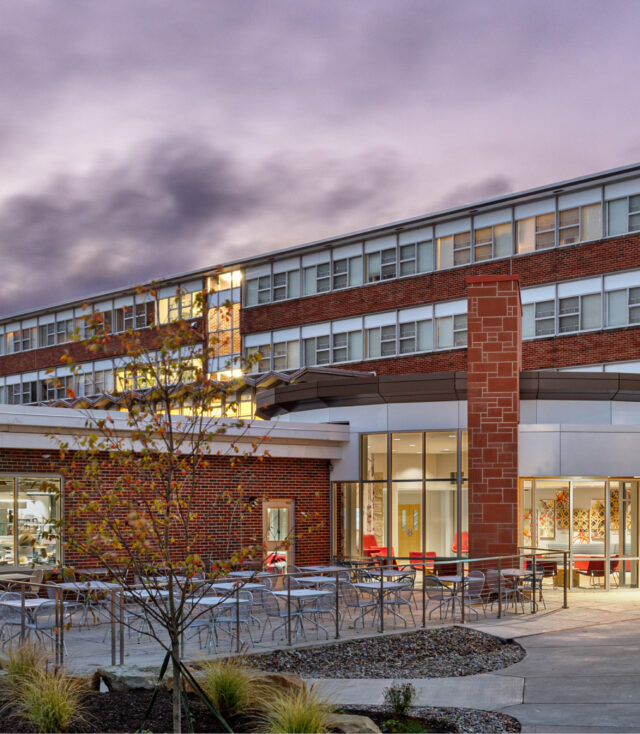 This past year, we have had the pleasure of designing smarter places for collaborating, convening, competing and learning for our Higher Education clients. We've highlighted some of our favorite recently completed and in-progress Higher Education projects.
Completed: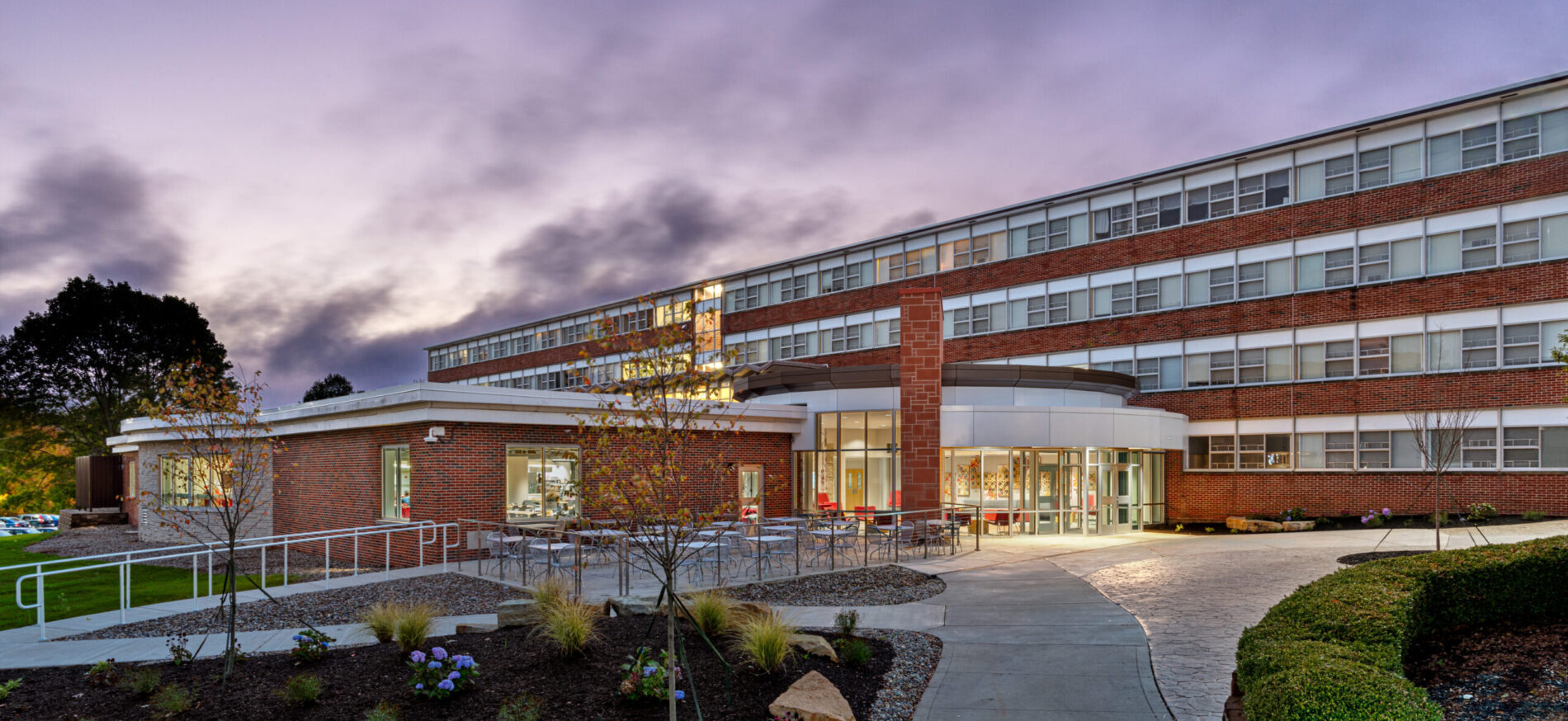 Grace College – Alpha Hall Dining Addition & Renovations
Winona Lake, IN
Grace College wanted to provide its students with an exciting and modern dining experience.
Working in collaboration with Sodexo, Fanning Howey completed a study and developed design concepts that completely renovated the existing Alpha Hall dining area. The design transformed the facility from a cafeteria-style dining experience to a satellite dining area. Our team proposed smart design solutions that increased capacity by 100 seats and offered students a broader range of seating options.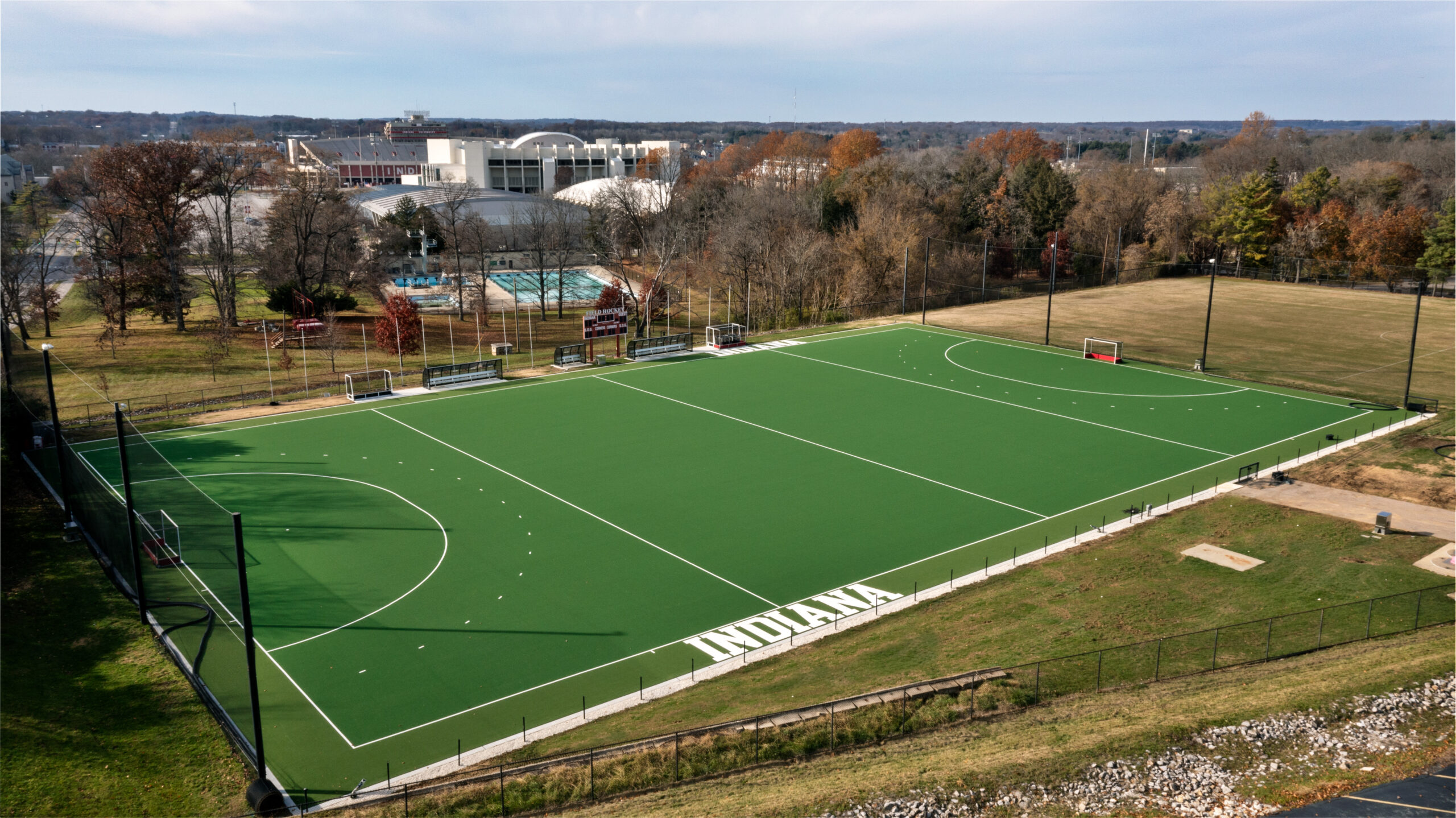 Indiana University – Field Hockey Complex Renovations
Bloomington, IN
A turf replacement project is putting Indiana University Field Hockey on equal footing with other Big 10 Schools.
Fanning Howey designed the replacement of the existing 12-year-old field hockey turf field. The new field turf is a non-filled carpet that is FIH-certified and equal to turf fields found at other Big 10 facilities. Careful study of existing conditions and early testing by LaboSport indicated that the existing eLayer could be reused. This dramatically lowered the final cost of the project.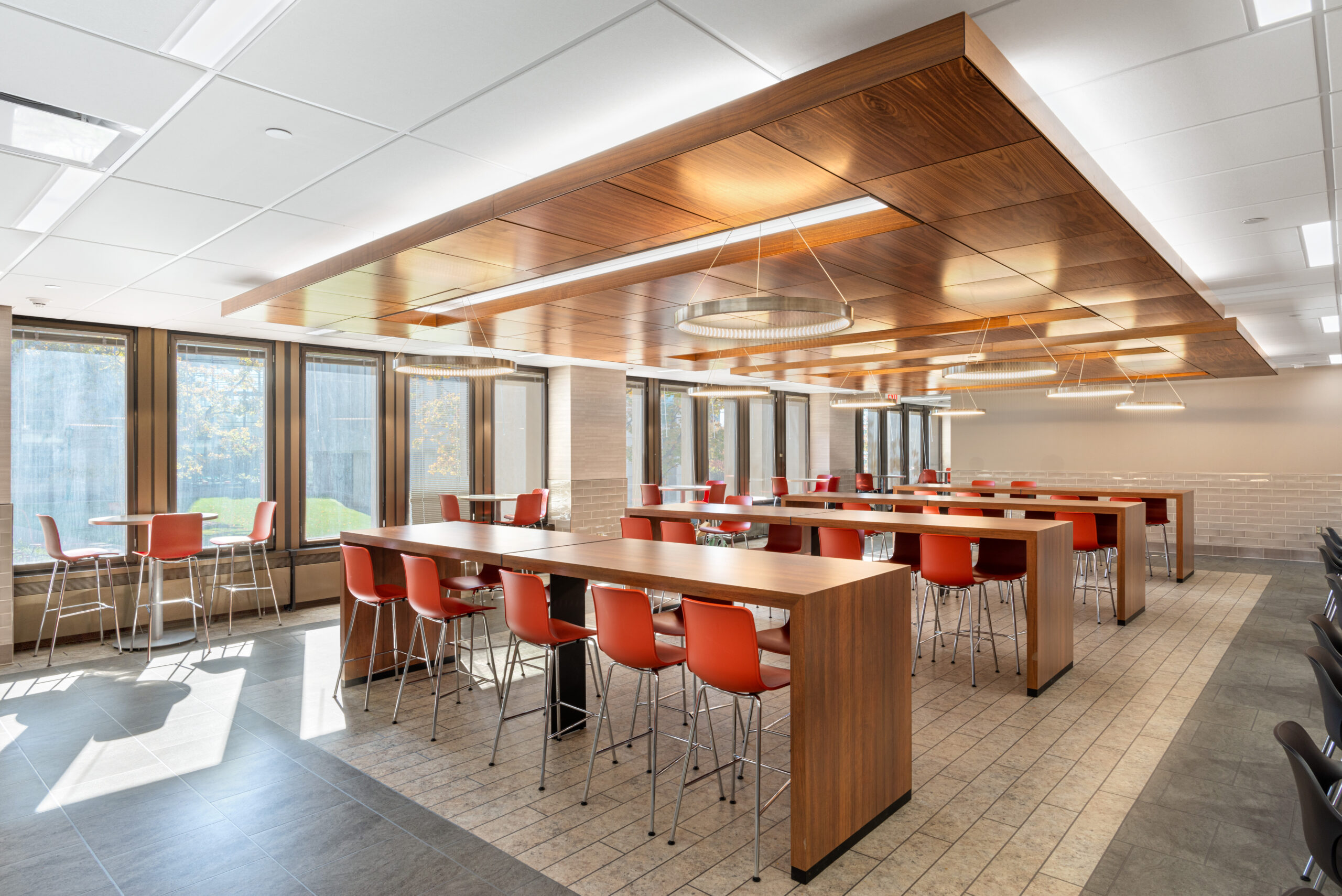 Indiana University – Wells Library Bookmarket Eatery Renovations
Bloomington, IN
The compact renovation to one of Indiana University's busiest foodservice facilities made big improvements for students and staff.
As part of a larger renovation to Wells Library, the design of the upgraded Bookmarket Eatery expanded the capacity of both concession options and space for dining and studying. Since the cafe is one of the most frequented dining locations on campus, the space was organized to improve traffic flow, maximize available seating and reduce prior hallway congestion.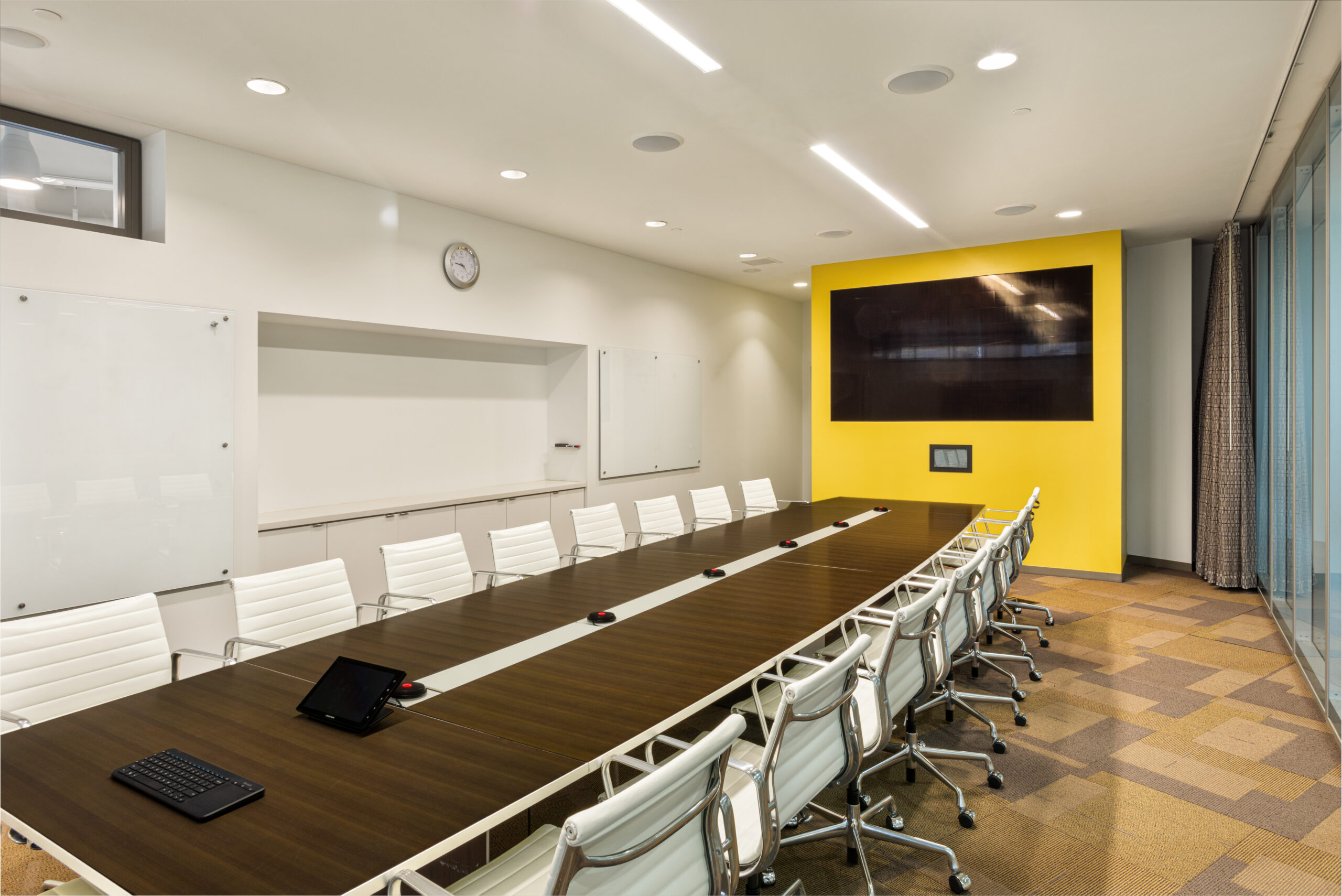 Indiana University – Cyber Infrastructure Building Executive Office Renovations
Bloomington, IN
After receiving a new extensive technology package, Indiana University's Office of the Vice Provost of Information Technology needed to rethink its executive workspace.
Fanning Howey redesigned the 3rd-floor executive offices in the Cyber Infrastructure Building (CIB) to optimize the available square footage to accommodate new videoconference and display technology while making room for a more collaborative work environment. Particular care was taken in the technology infrastructure design to support the highly secure and sensitive data OVPIT oversees. Additionally, the design creatively adjusted the layout and infrastructure to address the mechanical and acoustical challenges of the raised floor.
In Progress:
Indiana University – Wendell W. Wright Education Building Library Renovations
Bloomington, IN
Fanning Howey is renovating the Wendell W. Wright Education Building Library to make space for a brand new program.
The redesign of the library will create tailored learning environments for the new children's instructional consulting program, from lecture space to student observational facilities. Fanning Howey designers are reallocating underutilized square footage into a variety of zones for quiet individual studying, collaborative group work, library operations and multiple instructional spaces.
Indiana University-Purdue University Indianapolis – Bryce and Ott Hall Renovations
Indianapolis, IN
As part of a strategic expansion effort, IUPUI acquired two former medical buildings in downtown Indianapolis. A complete infrastructure renovation will upgrade the facilities to support new tenant build-outs.
Fanning Howey is collaborating with IUPUI on the complete MEPT system demolition and renovation of Bryce Hall and Ott Hall. Both are five-story former Wishard Hospital buildings. To accommodate the low floor-to-floor heights of the buildings, the design utilizes a hydronic beam system with a dedicated ventilation central air handler plant. This approach was validated by extensive energy modeling on the part of our team.
In addition to engineering, Fanning Howey is providing space planning and interior design for the build-out of both facilities.
Additional Higher Education Projects:
Indiana University

Hayes Track Resurfacing and Repairs
Auditorium Elevator Replacement

Purdue University

Hovde Hall – Exterior Door and Tile Installation
Knoy Hall – Room 363 Renovation
Stewart Center – Loeb Playhouse Door Replacement

Indiana University – Purdue University Indianapolis

Lockefield Village Electrical Duct Planning

Ivy Tech Community College – Richmond