Insights
Construction Site Best Practices to Prevent the Spread of COVID-19
By

Tim Placie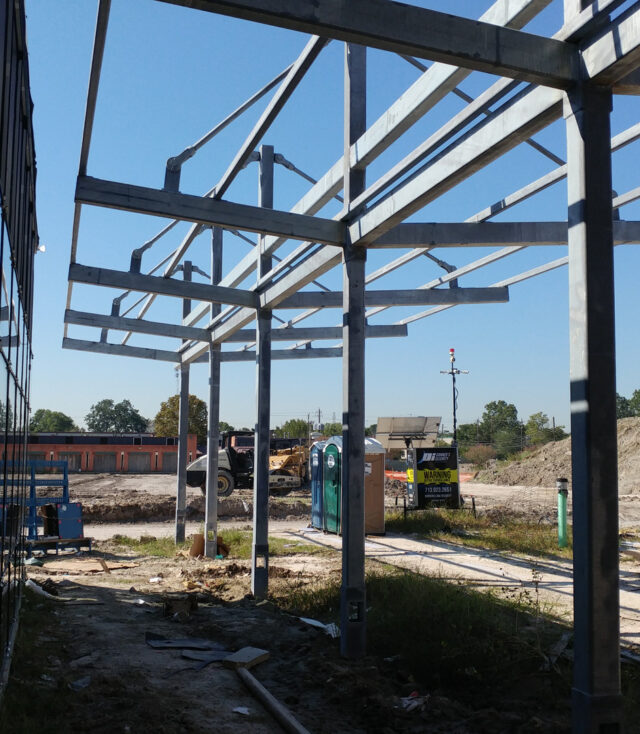 Over the past few months, safety and hygiene practices have changed dramatically on construction sites. And despite the challenges presented by COVID-19, construction projects are steadily moving forward. Most of our remodel clients are eager to finish upgrades to limit the amount of workers in the school as they begin to safely reopen in the fall. From our experience, we've put together a few best practices for site coordinators, contractors and construction administrators to consider for the health safety of their workers and visitors.
Monitor Employee Health
There are several procedures to put in place to prevent the spread of COVID-19. Employee health is of utmost concern. As always, if an employee is feeling unwell they should stay home. Having a system for regularly checking and tracking temperatures of employees is one way to mitigate potential health risks. If working inside, all employees should be wearing masks and social distancing as much as possible. Our construction partners have been proactive in providing the correct PPE (personal protective equipment) and cleaning supplies to their employees.
Make Social Distancing a Priority
Weather permitting, in-person meetings should be held outside and observe social distancing. Utilize larger indoor spaces such as a gym or auditorium for in-person meetings during inclement weather. If your site has an office trailer, limit the number of employees who can be in the office at one time.  Schedules may need to be adjusted to accommodate social distancing while still meeting deadlines.
Sharing is Not Caring
The more we do to reduce contact between workers, the less likely we are to spread contagious viruses like COVID-19.
Avoid having paper copies of documents as much as possible. Consider implementing additional wifi hotspots on construction sites for increased access.
Reduce the spread by not sharing tools among workers, including power tools. For larger equipment, implement sanitization procedures in between users.
Increase the amount of sanitization and hand washing stations across the site.
Refer to the CDC and OSHA's guidelines regularly for updates and changes.
Fanning Howey Procedures
Our construction administrators work diligently to make projects move smoothly and safely. During this time our team has implemented additional measures to ensure the safety of our construction partners and other Fanning Howey employees. Before visiting a site, construction administrators log their temperature with our internal form. Once on site, all meetings and surveying observe social distancing guidelines. Transportation is sanitized after every use, and regular hand washing and sanitizing is encouraged. All Fanning Howey employees have been provided with masks and hand sanitizer to utilize both in and out of the office.
Considerations Moving Forward
As we continue to navigate the shifting landscape of COVID-19, site coordinators and construction administrators will need to continue open lines of communication. By working together we can all continue to deliver dynamic learning facilities in a safe and healthy manner.
Resources: