Insights
Flexible Natatorium Design: More Than a Pool
By

Cheryl Sydzyik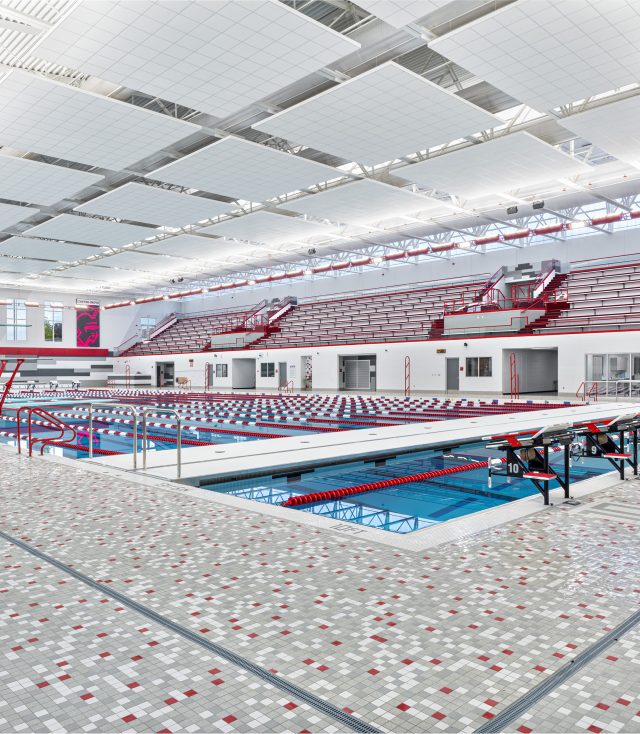 Athletic facility design has become more multifunctional than ever. Natatoriums and school pools are no exception. These complex facilities must serve multiple needs in addition to high-level athletic performance. Designing with flexibility in mind will help you get the most value out of your facility.
Pool Design for Flexible Programming
One of the first challenges in natatorium design is maximizing the use of the main pool. A wider pool is not only a faster pool- it is a more flexible pool. Our recent design for Carmel High School's new natatorium includes a 25M wide competition pool, which is wider than the standard 25-yard configuration of most high school pools. This additional width allows for multiple course configurations and extra lanes available for competition and practice.
In addition to the size of the pool, movable bulkheads are a key to increasing flexibility. Movable bulkheads divide the pool to adjust course length and create space for simultaneous activities. Center Grove High School's new natatorium includes a 50M stretch pool with movable bulkheads that allow for competition and warm-up swimming to occur simultaneously.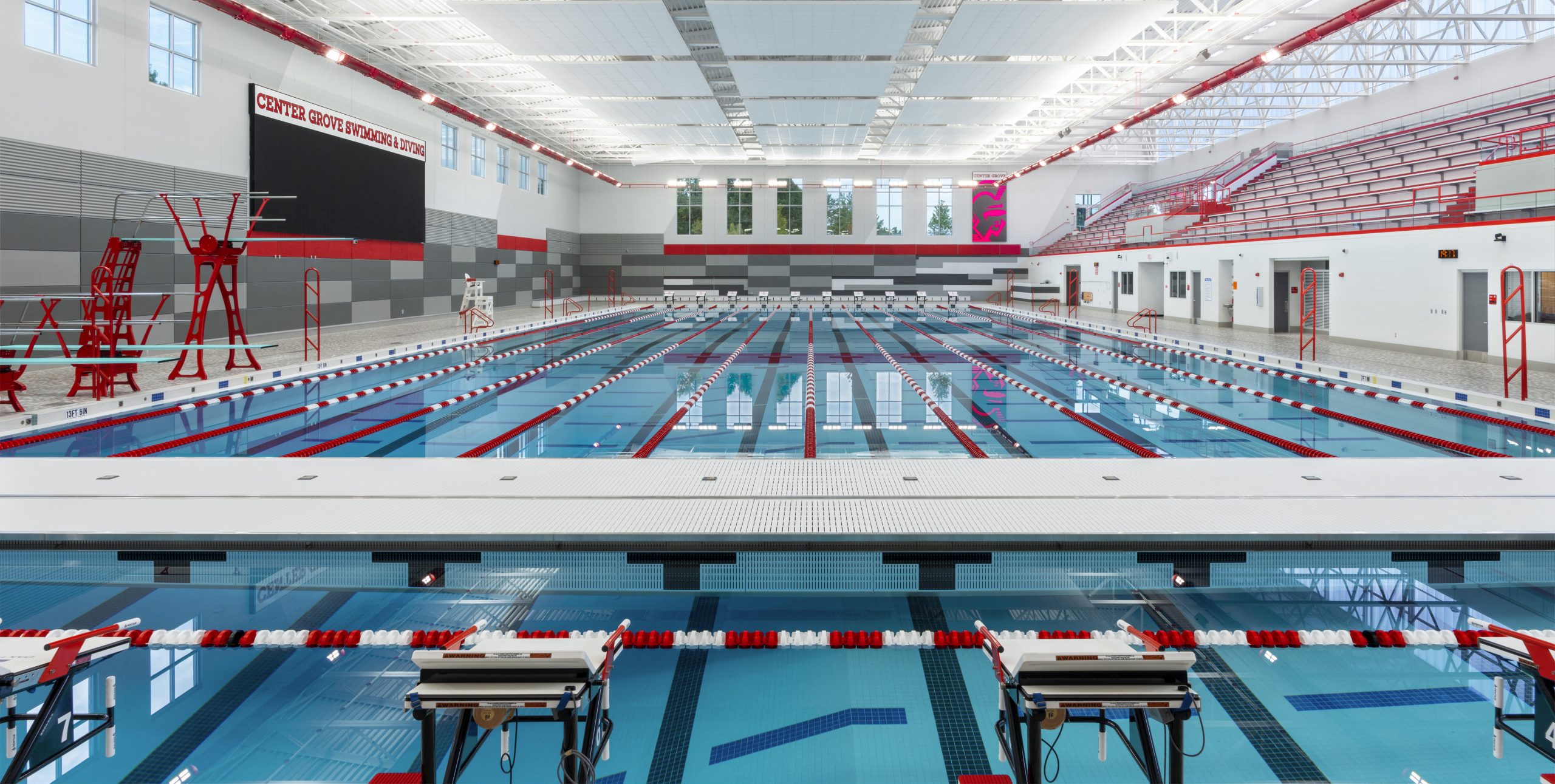 If your program includes diving, choosing where to place a diving well, either in a separate tank or as part of the main pool, requires careful consideration. If there is space and budget available, a separate diving tank is a good option so diving and swimming schedules do not conflict. If the diving well is integrated with the main pool, placement of the diving boards should not disrupt swimming lanes. Ideally, this portion of the pool is placed in a far corner opposite movable bulkheads to separate these two activities.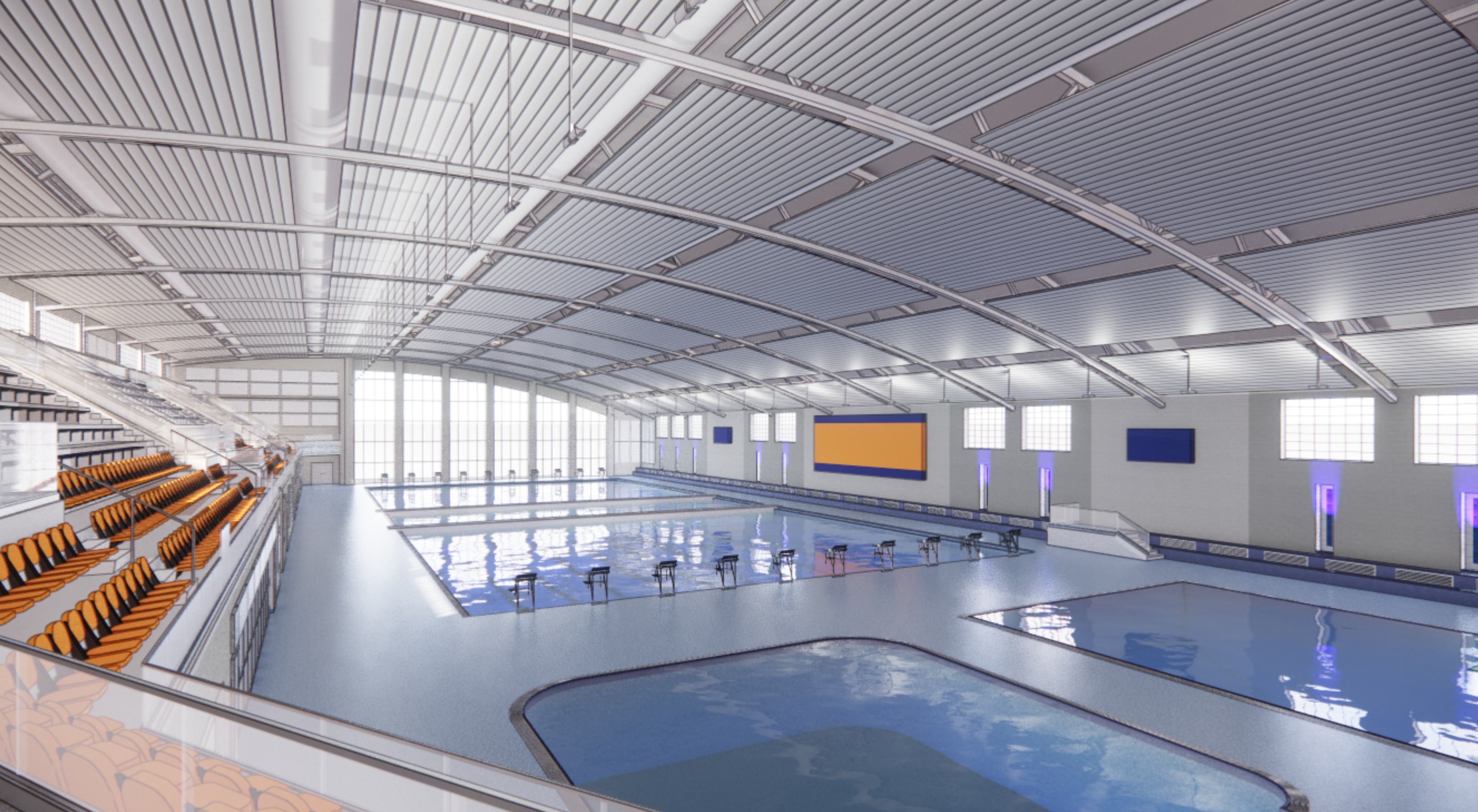 Flexible pool design incorporates community needs as well as athletic needs. Many communities use their high school natatoriums for swimming lessons and swim clubs. The more lanes and configurations available, the more options a community has for scheduling. There is also an increasing need for community access to these spaces for wellness and physical therapy. Consider including a zero-depth entry therapy pool for student and community use like the one included in Center Grove High School's new facility.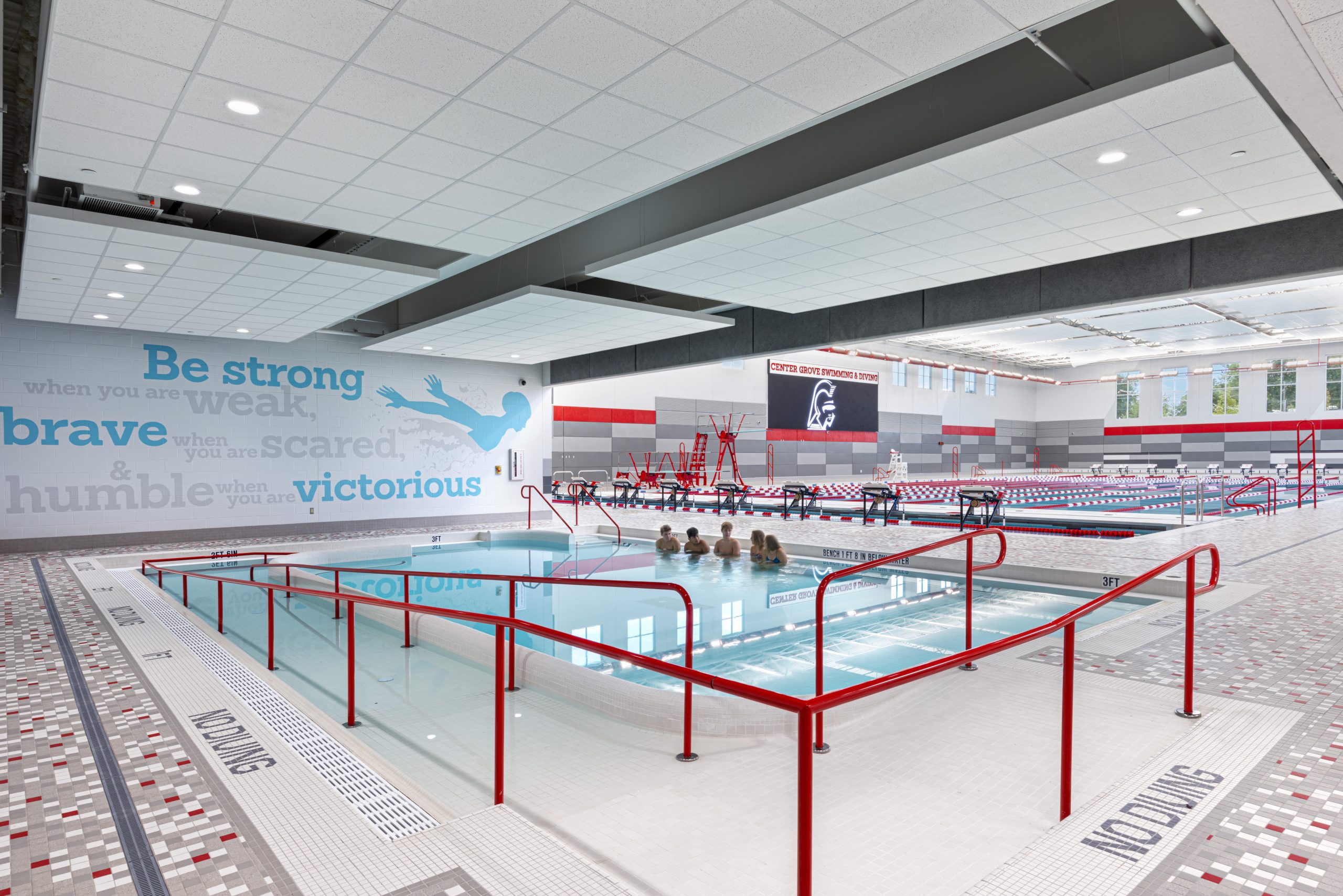 Expanded Support Spaces for Flexibility and Safety
Deck, spectator and other support spaces are just as important to the flexibility of your natatorium as the pool itself. Make sure your pool deck is wide enough to adequately accommodate swimmers, instructors and coaches while not impeding spectator viewing.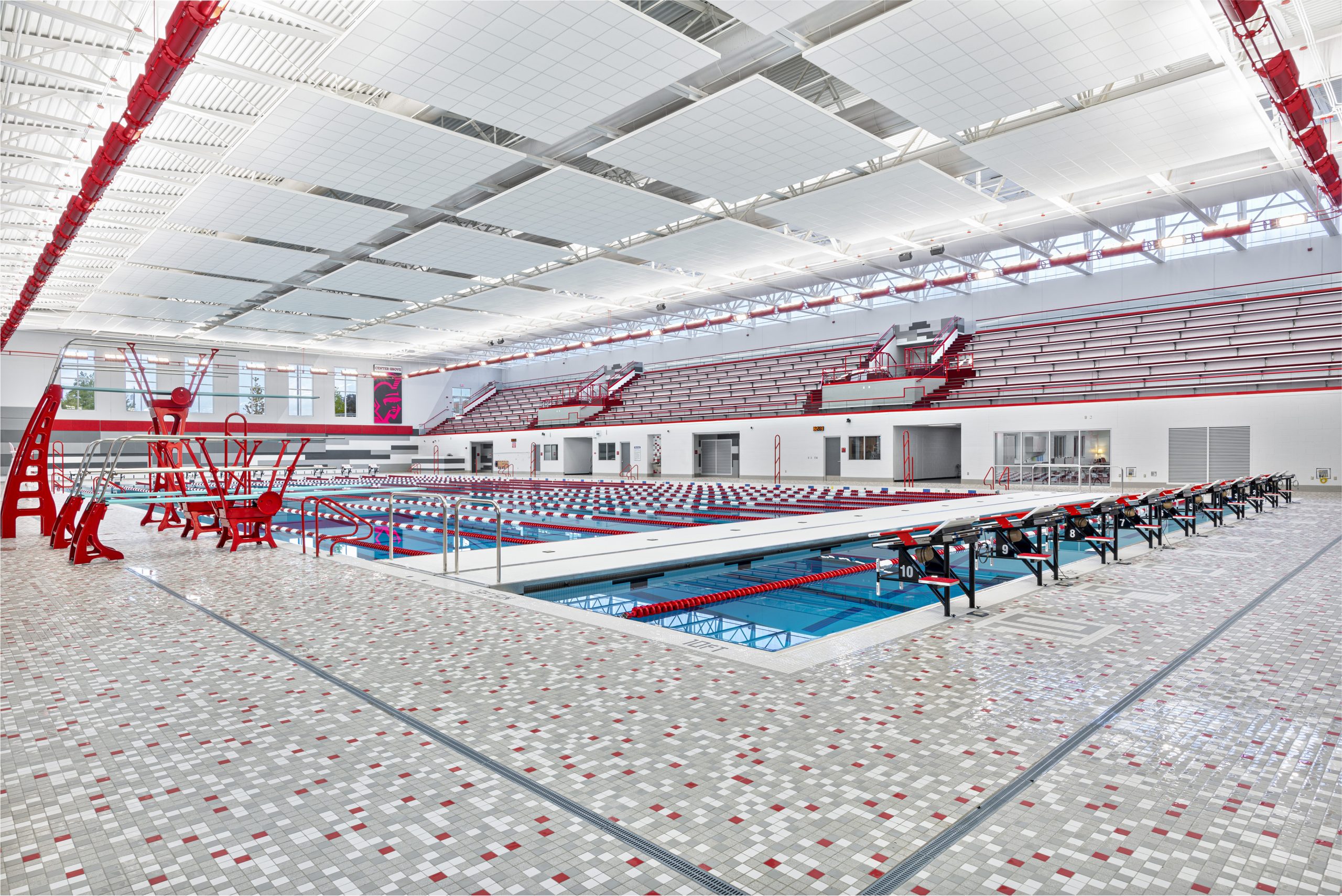 Incorporate multifunctional spaces at deck level such as hospitality rooms. These spaces can serve many purposes including space for tournament timing, hosting during tournaments and other activities, and classroom instructional space. Building your support spaces to have the right amount of community access is important.
For safety and comfort, spectator space should be separated from deck space. This avoids conflicts between participant and spectator circulation while allowing for freedom of movement by each group. When possible, elevated spectator seating provides for improved viewing. A variety of seating and standing options is desirable given the length of events. Planning for spectator comfort by including a separate air delivery system for elevated spectator areas.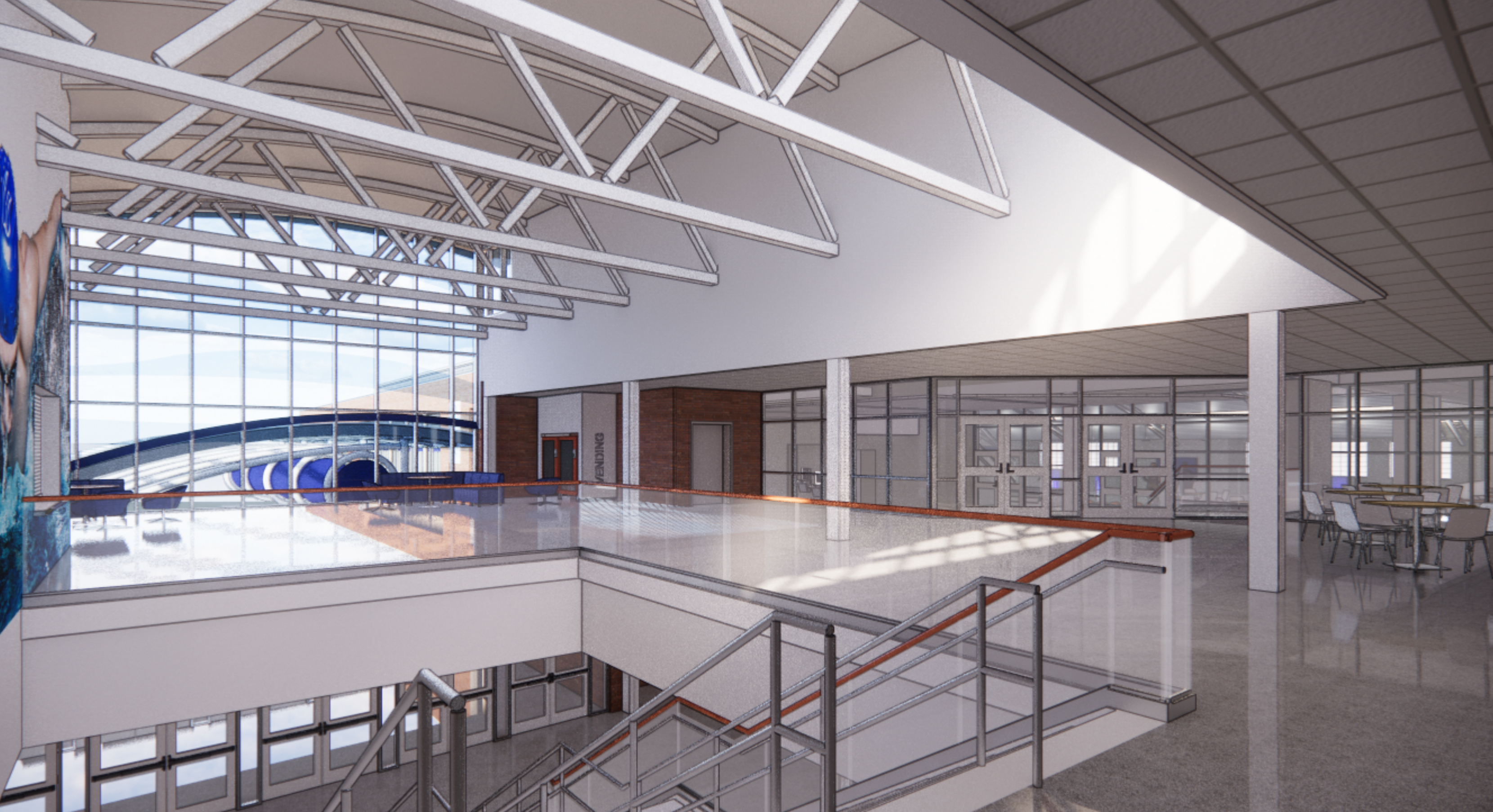 Designing flexible athletic facilities increases the breadth and longevity of use. Employing these and other strategic solutions ensures that your natatorium will serve the needs of your students, athletes and community well into the future.
Want to learn more about flexible design? Interested in learning how flexible design can serve your community? Reach out to our team of design professionals today.
Other Critical Design Considerations
Sightlines

Spectator seating must be far enough from the pool deck that spectators can view all of the lanes.
Clear visual lines through the natatorium facility increase safety.

Acoustics

Work with, not against the structure of the facility. Use the structure of the facility to your advantage. In the design for Carmel High School's new natatorium, the roofline is curved with perforated metal acoustic panels in between the trusses to absorb sound.
A mix of hard and absorptive surfaces will result in a quieter, less echoed natatorium.
Strategically place audio technology to alleviate echo while making sure audio can be heard accurately by swimmers and spectators.

Temperature control

Systems are designed for climate control to maintain comfort for spectators and swimmers at the same time. If the natatorium has multiple pool types such as a competition pool, a diving well and a therapy pool, all of them need to adjust their temperature to the user group. Besides adjusting pool heating, plexiglass walls can be integrated to divide the space and maintain different temperatures on either side.
Centralize service to all pool tanks. This allows for ease of maintenance, increased efficiency and better adjustment of water types, depth, temperature.