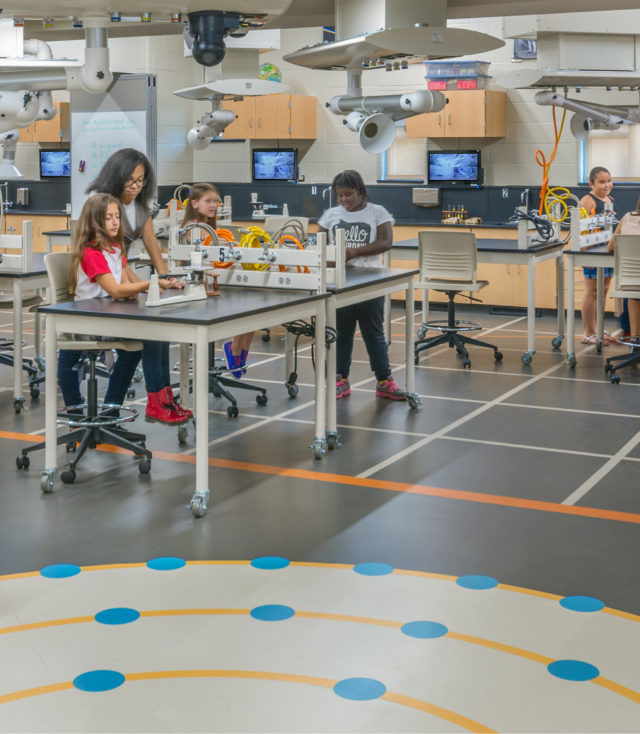 Incorporating STEM or STEAM activities in your curriculum allows students the opportunity to problem solve collaboratively and think creatively. Utilizing the spaces in your school to meet 21st century learning standards does not have to be complicated or budget breaking. With some clever design thinking, you can take an underutilized space and turn it into a dynamic learning environment.
Here are a few steps to add STEM space to your learning environment swiftly and on a shoestring budget:
Begin with Brainstorming
     Design elements to consider:
Flexible Seating
Dry Erase Paint
Clear Storage
Sensory Walls
Indoor/Outdoor Space
Tackable Wall Surfaces
Taping Floor Patterns
Not sure where to start? Start with your curriculum. Good school design and curriculum development go hand in hand. Where is there space for more STEM activities? Begin to think about how space in your school or classroom could work for those activities.
Start small. If you are working within the confines of your own classroom, begin with a few simple adjustments for your space and start incorporating them into your curriculum. Consider what you want the space to do for your curriculum. What projects or activities would you like to incorporate that your current space doesn't lend itself to?
Student Involvement is Key
STEM education is about student-led learning, with some teacher guidance. Keeping this in mind, it is important to include your students input early on. Listen to what they want and involve them in all stages of the process. Not only will this help you flesh out your STEM needs but it will keep your students engaged and eager to participate once the space is completed.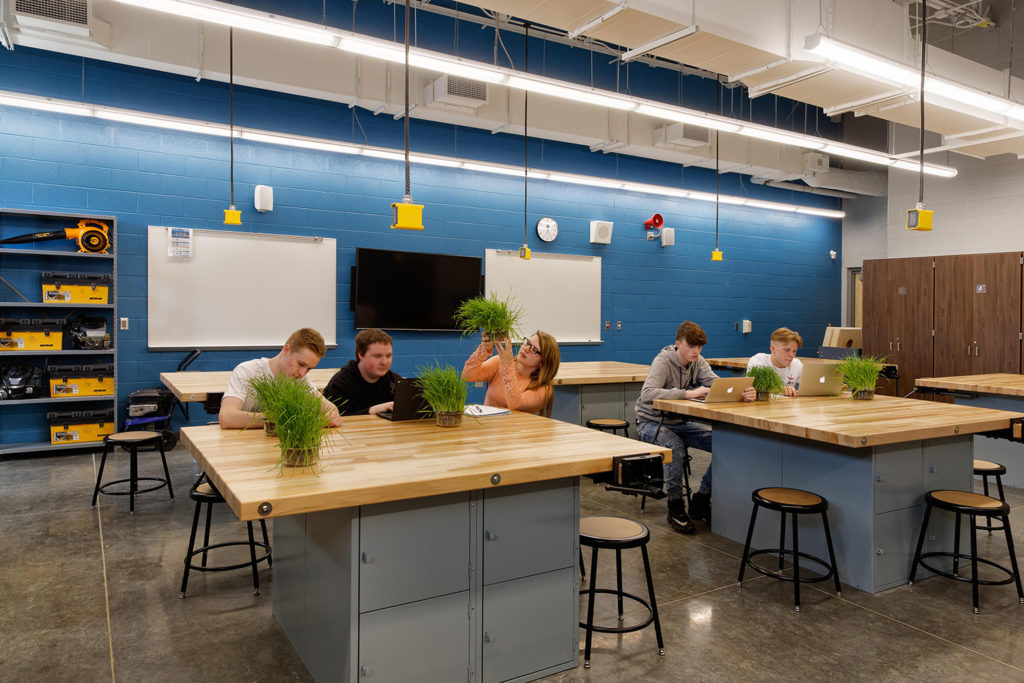 Choose Your Space Wisely
When choosing the right space for your STEM/STEAM learning environment there are a few things to keep in mind. Consider spaces that have or can easily get access to water. Look for places that could lend themselves to various layouts for activities. Make note of spaces with hard surfaces and ample storage options.
You can do big work in small spaces. At New Britton Elementary school, our team utilized just 50 to 70 square feet from each classroom and created three different types of space: enclosed small group rooms, open collaboration hubs and huddle spaces. Adding simple design elements such as marker surfaces and magnetic display zones transformed their former corridor space into a central learning commons.
Underutilized media centers are a popular space for schools to upgrade to STEM makerspaces. Viking School in Gurnee, Ill., did just that by updating flooring and paint and adding drop down power to the ceiling. They reconfigured furniture they already had to make collaboration stations, allowing for greater flexibility.
Plan, Prepare, & Create
Once you've established the area or areas that you want to make more STEM friendly it's time to make your makerspace. Consider items and arrangements that are multifunctional. Cluster desks or tables together for group activities and collaborative tasks. An old table painted over in dry erase paint can now be a writing, planning and drawing surface, as well as a central location for teams of students to collaborate.
     Smarter Places to add STEM:
Excess Classroom Space
Underutilized Corridors
Old Media Centers
Home Economic Classrooms
Previous Teacher Work Spaces
Adding storage options for tools and supplies to collaboration stations is another way to amplify your spaces to efficiently fit in STEM activities. Rearrange your furniture so students have access to windows that can be utilized as dry erase drawing surfaces.
In Deerfield, Ill., at Shepard Middle School, we took traditional science lab spaces and used strategic design elements such as flooring patterns, wall graphics and onsite renewable resources to make their school STEM ready. Consider areas in your classroom or school that are tailored for these elements. Try laying out tape on carpet to help students explore a variety of science concepts. Utilize this approach to turn your doorway into a protractor for students to learn about angles. Your design choices can create STEM learning opportunities for students to explore in a variety of ways.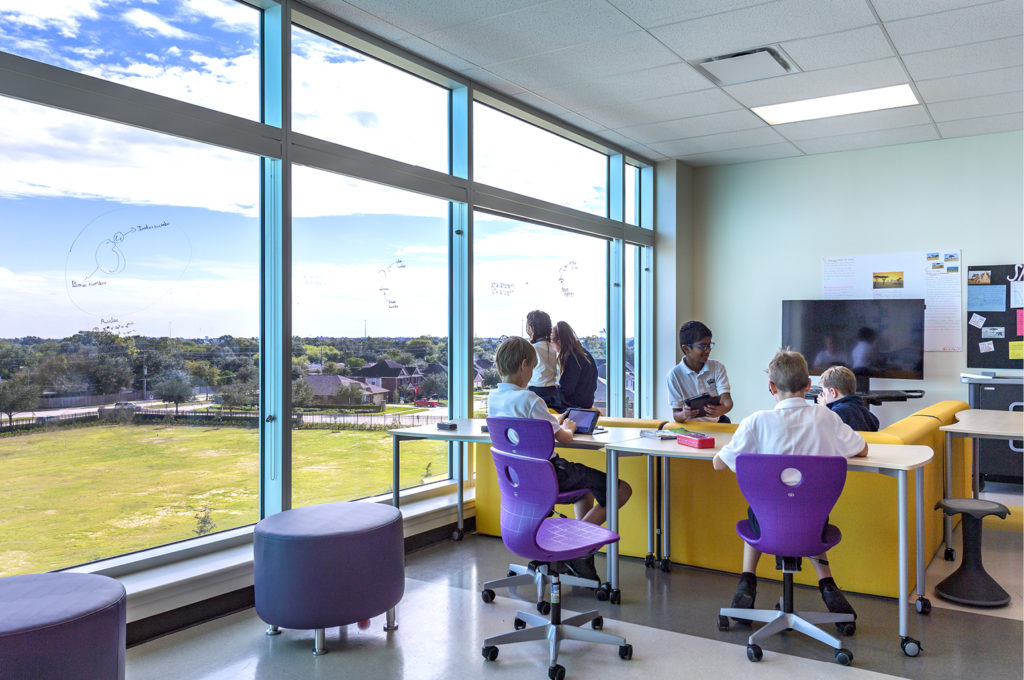 Fundraising Opportunities
Ready to take your STEM curriculum to the next level, but need more funding to expand your space and resources? Many districts have a variety of options to receive funding for STEM spaces, as well as a variety of nationwide resources to help educators expand their STEM offerings.
Check out your district's education foundation or parent teacher associations. Many have grants available for teachers and school programs to receive funding for STEM/STEAM projects. Look to your community leaders and organizations to support your programming. Many companies are happy to lend their STEM expertise and even program funding to benefit the community. Work with your district leadership to coordinate outreach efforts. Additionally, Crowdfunding efforts like donorschoose.org have active supporters ready to donate to classroom and school programs.
Finally, don't be afraid to reach out to manufacturers directly. Many flooring manufacturers will donate surplus flooring tiles to education programs. This is a quick way to freshen up your space and add a variety of textures for exploratory activities.
STEM education is integral to developing future-ready students. With these steps in mind, weaving STEM opportunities into your existing space is achievable and affordable.
Resources: