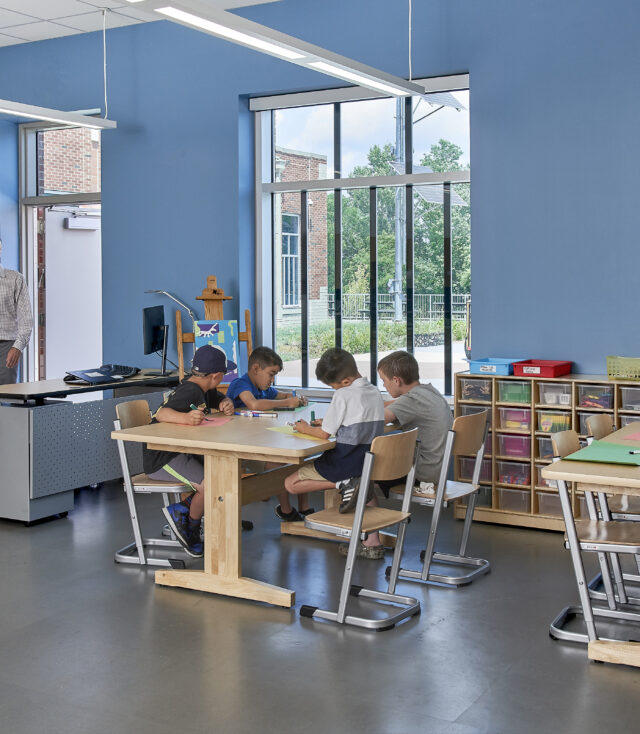 Social-Emotional Learning & Art Education
Art education is integral to the way in which students learn about self-expression and develop their creative interests. It is well suited for addressing elements of social-emotional learning including, but not limited to applying acquired knowledge, skills, and attitudes to develop healthy identities, manage emotions and achieve personal and collective goals. How do school designers create modern art education facilities to support the complex needs of today's students?
Encourage Creativity & Inclusion
Many students reach a certain age where their creativity and interest in the arts become stifled. Art education spaces should encourage students of all ages to tap into their creativity and feel welcomed into that process. We do this by designing spaces that are both inviting and functional.
Where you locate your art spaces is important to driving curiosity. Having creative learning spaces in a prominent location rather than just a specialty classroom will help encourage engagement.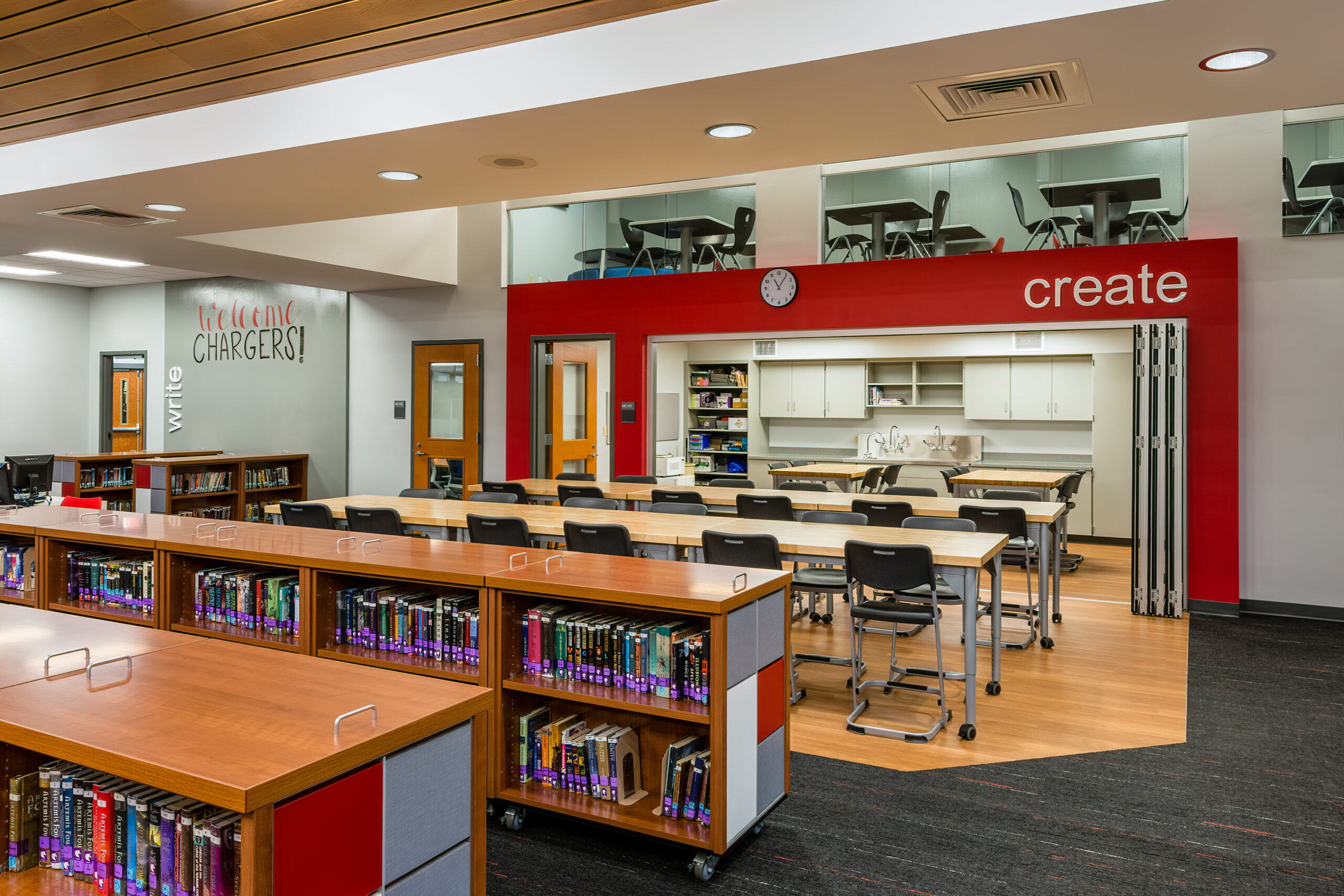 When possible, integrate art opportunities throughout your learning environments. Create zones for art education where students can work collaboratively or independently, giving them opportunities to engage in what the University of Chicago Consortium on School Research calls cycles of action (encountering, tinkering, choosing, practicing, and contributing) and reflection (describing, evaluating, connecting, envisioning, and integrating).
Make sure your facility has plenty of space for students to not only create but display their art. At the British International School of Houston, art and design is a pillar in their curriculum and the building reflects that through inspiring installations and student display areas.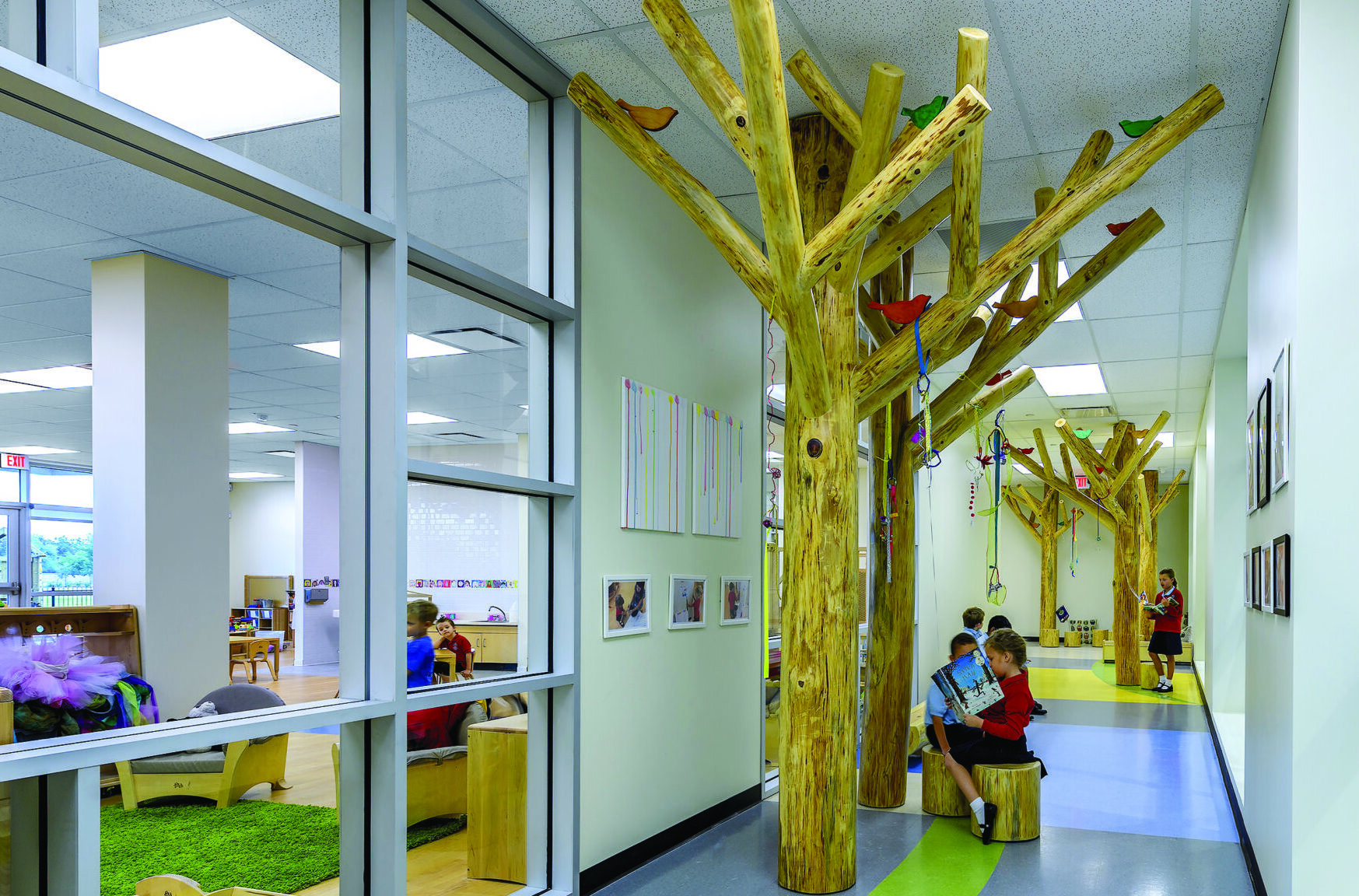 Explore Beyond Traditional Art Education
Art curriculum can cover a lot more ground these days beyond traditional fine-art practices such as painting and sculpture. STEAM education trends and curricular approaches such as Choice Art have found ways to empower students by incorporating a wider range of choices that support the individualized needs of students.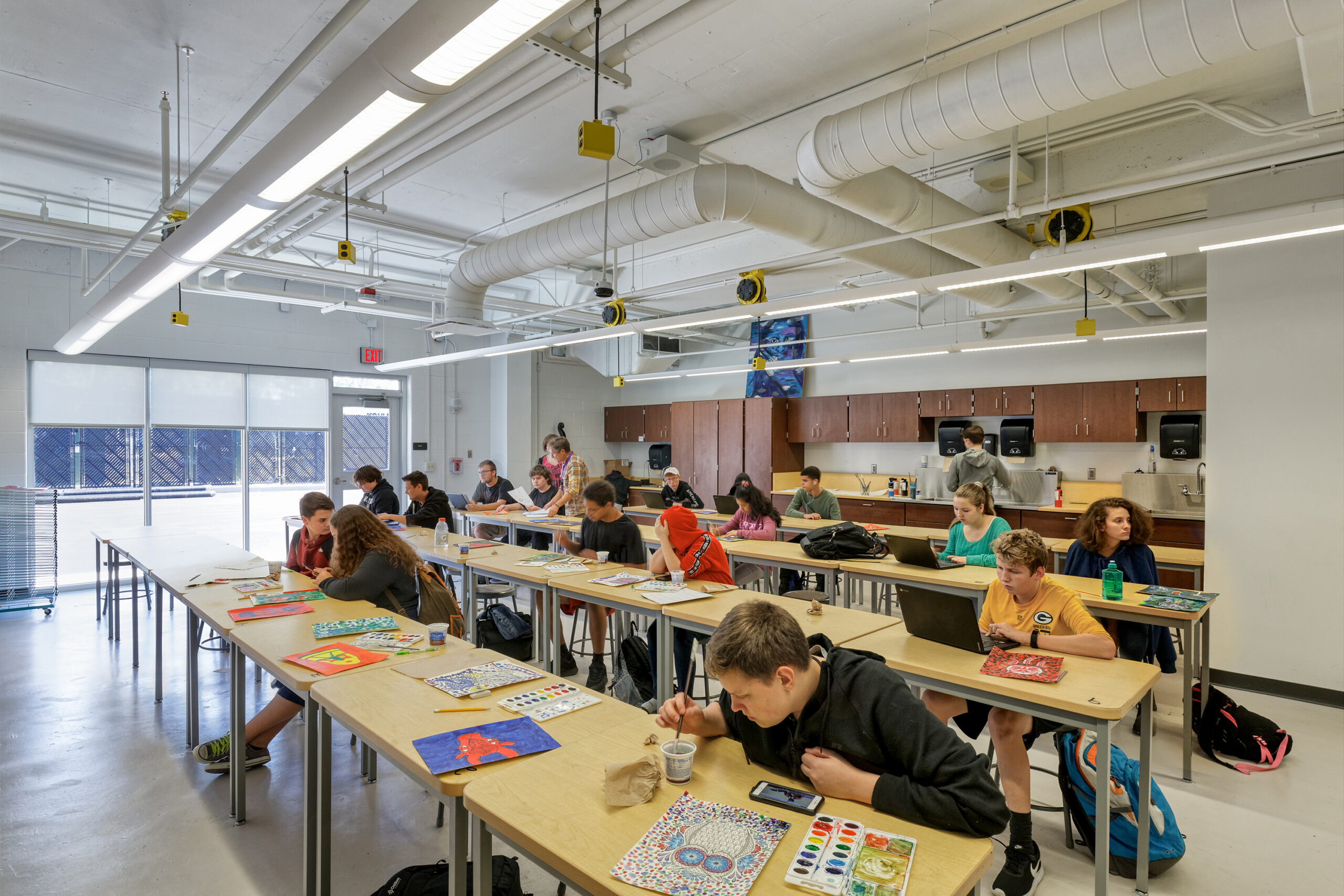 The modern K12 art lab should accommodate space for collaboration as well as areas that allow individual-focused work. By providing flexible furniture and equipment the lab will allow for multiple creative activities to occur simultaneously.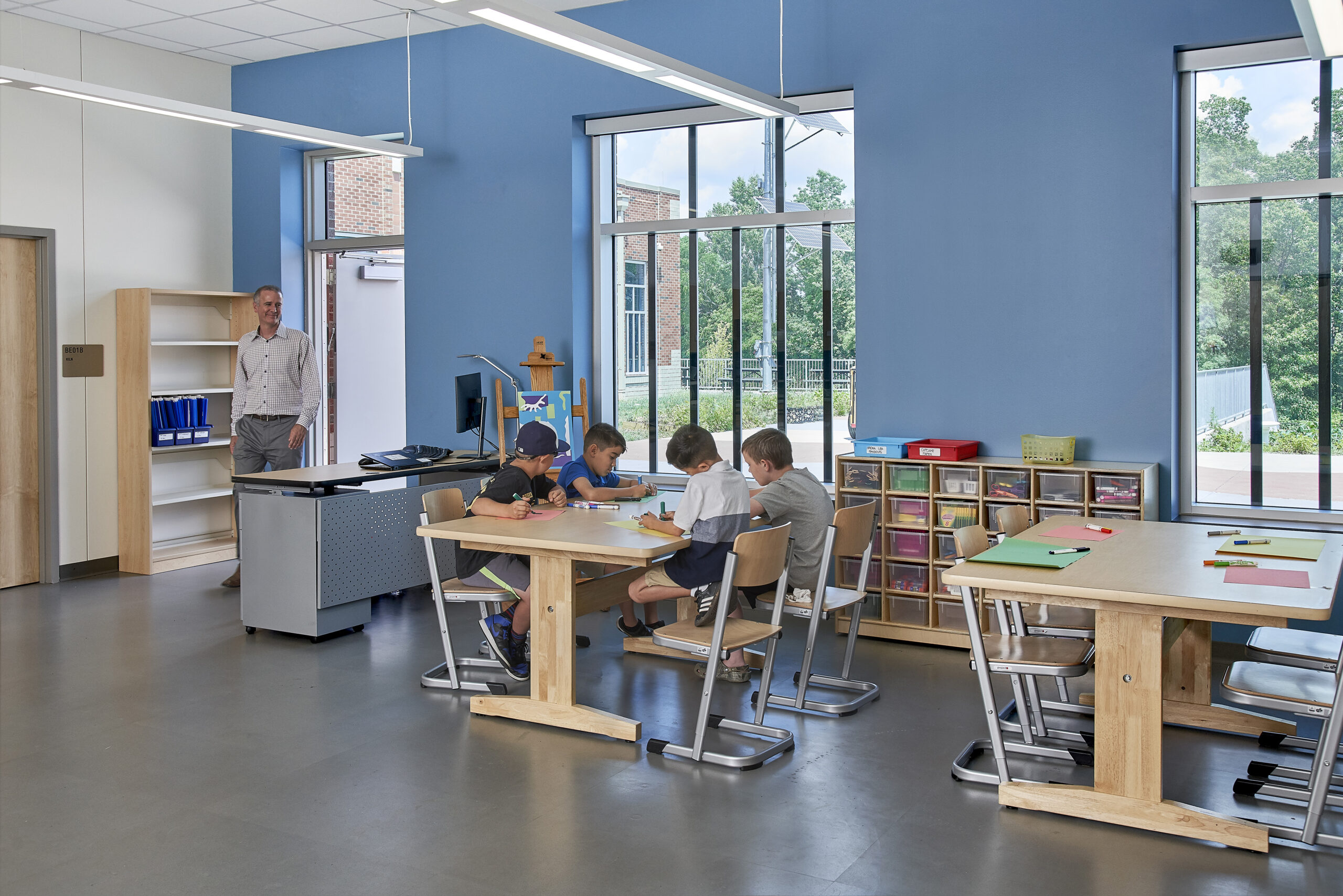 Integrate access to the outdoors via interior courtyards or at minimum, ample daylighting and exterior views into your design. This provides space for technical equipment such as kilns, time for outdoor sketching and inspiration from nature.
Incorporate Technical Elements
For upper-grade levels, consider potential curricular and technological needs. Incorporate more technical equipment and furnishings such as height-adjustable Computer-aided design (CAD) tables and 3D printing stations. Additionally, consider including space dedicated for critique and feedback.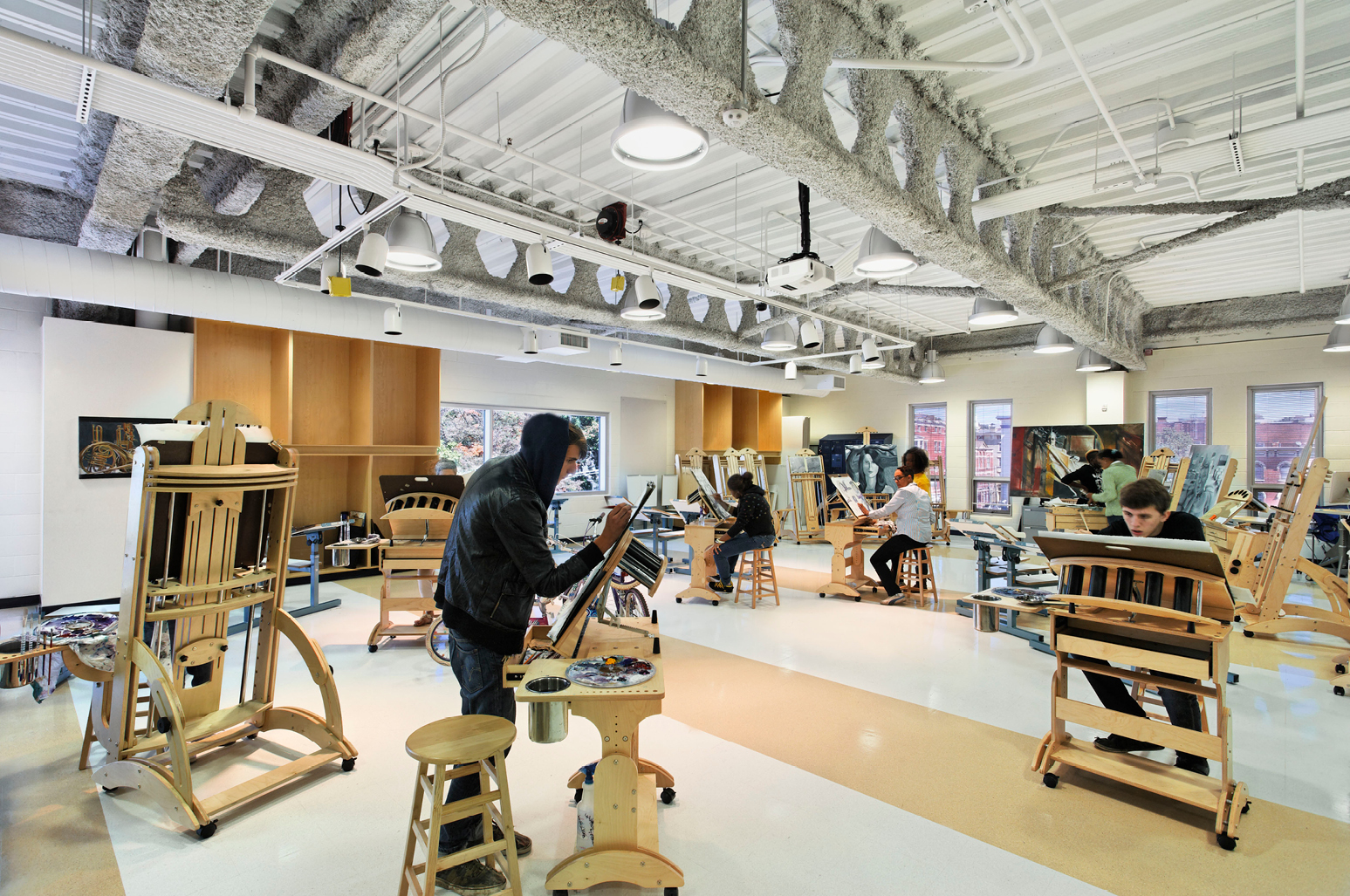 For younger learners, find opportunities throughout the school for students to get messy and creative. One simple addition to a space, such as glass or white-board walls for students to draw on, can ignite inspiration and spark student creativity.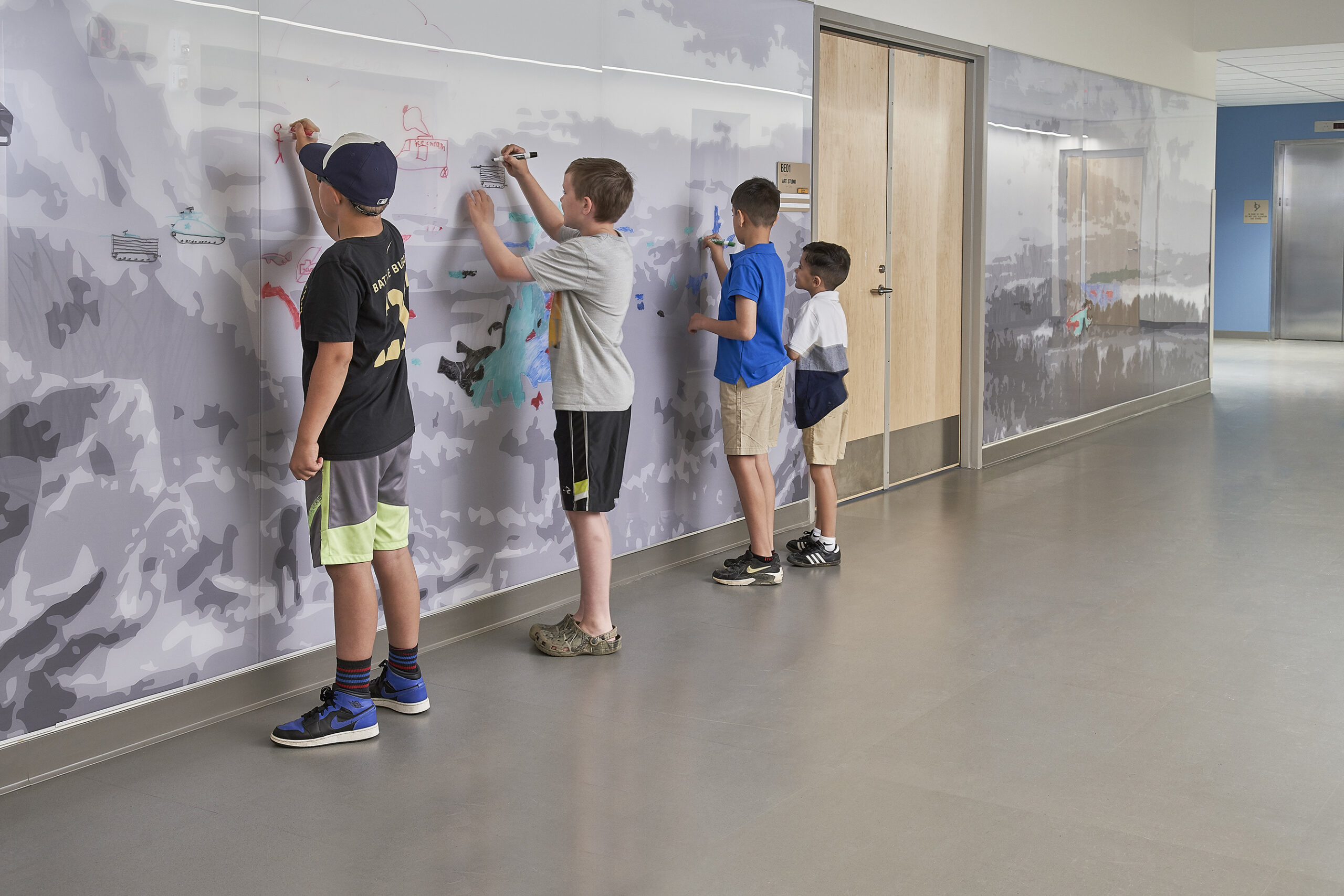 Technical Design Elements to Incorporate:
Ample space to create and display art
Provide a higher ceiling where possible
Various options for storage of artworks in progress
Indoor/outdoor access for technical equipment such as kilns
Natural light and views to outdoors for creative inspiration
Combination of fixed and flexible furnishings
Height-adjustable stools and work surfaces
Easy to clean flooring and wall finishes
Overhead power reels to allow maximum flexibility of lab layouts
Large monitor or interactive display board
Ceiling pipe grid to hang art and studio lights
The modern K12 art lab needs the magic combination of technical capacity and comfortable, safe spaces for students to take productive risks, explore their unique identities and process challenges.