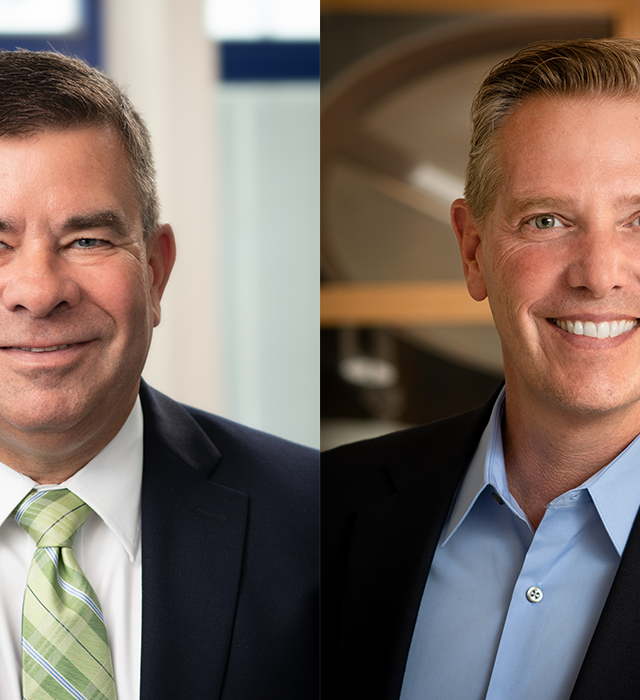 Fanning Howey, an integrated architecture, interiors and engineering firm specializing in learning environments, announced the appointment of Tim Lehman, PE, to Chief Executive Officer and  Andy Miller, AIA, to Chief Operations Officer. These appointments will become effective on June 30, 2022.
Current CEO Bill Payne, AIA, will remain in his role as chairman of the board and as a project executive for the firm's Indianapolis, Ind. office. Current COO Bruce Runyon, AIA, will remain on the board and will continue to serve as a project executive for the firm's Dublin, Ohio office.
These appointments are part of an ongoing leadership transition plan that will keep Fanning Howey at the forefront of educational facility design. Lehman and Miller became owners in the firm in 2021.
"I am excited to advance the legacy that Ron Fanning and Clair Howey started 61 years ago," says Lehman. "I am extremely thankful to work with an amazing team of professionals. We will continue to design facilities that create smarter, happier learners, more successful educators and stronger communities."
Lehman will be taking the role of CEO from Bill Payne, AIA, who has served as the firm's CEO since 2014. During his tenure as CEO, Payne grew Fanning Howey's market share in its core geographic regions of Indiana and Ohio. Under his direction, Fanning Howey was named to the PSMJ Resources 2021 Circle of Excellence for exceptional performance in a variety of management areas.
"Tim is the perfect person to lead Fanning Howey into the future," said Payne. "He is passionate about serving students and educators. During his 31 years at Fanning Howey, he has been the driving force behind many of our most innovative projects."
The former Chief Engineering Officer for Fanning Howey, Lehman has spent the last 31 years of his career focusing on the design of K-12 and higher education facilities. His recent project experience includes the award-winning Tri Star Career Compact in Celina, Ohio, the new Columbia City High School in Columbia City, Ind., and the new West Point Elementary School on the campus of West Point Military Academy in New York. Lehman is a graduate of the University of Toledo and of the ACEC Ohio Rising Leaders Program.
Joining Tim Lehman in the C-suite is Andy Miller, AIA. As Chief Operations Officer, Miller will draw on his decades of experience managing complex K-12 and higher education facility projects. Miller has spent 26 years working in Fanning Howey's Indianapolis office. He has a bachelor of architecture from Ball State University and a bachelor of science in quantitative business analysis from Indiana University. Miller has worked with clients in more than a dozen states, completing high-profile projects such as a new Columbia City High School in Columbia City, Ind., the new British International School of Houston in Katy, Texas, and the renovation of Bryce & Ott Halls for Indiana University-Purdue University-Indianapolis.
"Andy and I will work closely together to ensure that Fanning Howey stays on the forefront of educational facility design," said Lehman. "Along with the rest of our new ownership group, we will continue the firm's 61-year focus on supporting thriving educational communities."