News
Fanning Howey Expands Ownership and Leadership Team
By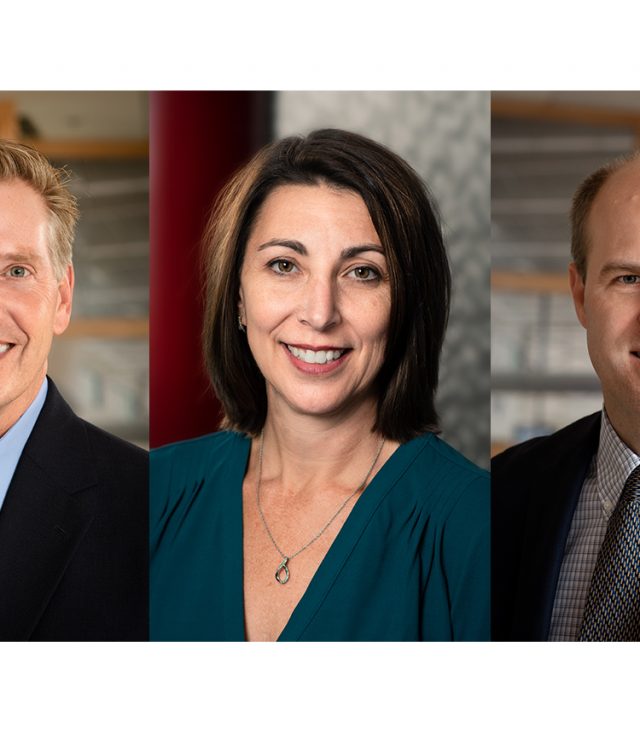 As part of the firm's 60th anniversary, Fanning Howey has promoted five team members to the ownership group and to positions on the board of directors. These additions are part of Fanning Howey's strategic plan to identify new leaders who will continue the firm's mission of smarter places for learning as our fourth generation of ownership. Each team member has shown a passion for learning environments and utilizes their expertise to create smarter, happier learners, more successful educators and stronger communities. The new members of the ownership team and the board of directors are:
Chief Engineering Officer, Tim Lehman, PE (Celina, OH office): As Chief Engineering Officer, Tim leads Fanning Howey's efforts to find smarter ways for schools and universities to enhance educational outcomes, improve sustainability and lower operating costs. With 29 years of experience, Tim has been involved in the design of hundreds of K-12 school and higher education projects. Tim stays on the cutting edge of trends such as renewable energy sources, Net Zero schools and designing for occupant comfort.
Project Manager, Jennifer Fuller, RA (Dublin, OH office): For 16 years, Jenn has led some of Fanning Howey's most complex Ohio projects out of our Dublin office. Throughout her 25 year career in architecture, Jenn has set herself apart as an educational visioning pro, blending her own thought leadership with a listen-first approach to planning, engagement and design. Jenn is a powerful advocate for the owner's vision and goals.
Project Executive, Andy Miller, AIA (Indianapolis, Ind. Office): Andy specializes in design for higher education clients and safe and secure learning environments, dedicating the past 26 years of his career to designing smarter places for learning with Fanning Howey. He is a hands-on leader who understands how buildings come together to create maximum value for clients and end-users.
Electrical Discipline Director, Brian Butler, PE (Indianapolis, Ind. office): As Electrical Discipline Director at Fanning Howey, Brian exemplifies our focus on integrated design and on creating smarter places for learning. He brings 25 years of experience designing cohesive electrical systems with the entire space in mind so that every facet of a building works to promote exceptional learning.
Director of Marketing, Zac Sprunger (Indianapolis, Ind. office): For 20 years, Zac has been a fierce advocate of Fanning Howey's high-performing learning environments. As Director of Marketing, he has traveled from Texas to the Midwest to Washington, DC, to explore the lessons learned from quality school design. His penchant for putting pen to paper, combined with his architect father and librarian mother, makes Zac a natural leader for promoting smarter places for learning.
"Throughout our 60-year history, the success of Fanning Howey has been passed on through strong leaders who are passionate about our mission," says Chief Executive Officer Bill Payne, AIA. "Each new board member exemplifies our company values and will be a strong asset in moving the firm forward."
New board members will serve alongside veteran board members, Bill Payne, AIA, Chief Executive Officer; Bruce Runyon, AIA, Chief Operating Officer; Steve Wilczynki, AIA, Executive Director, and Carla Remenschneider, IIDA, Director of Interiors.